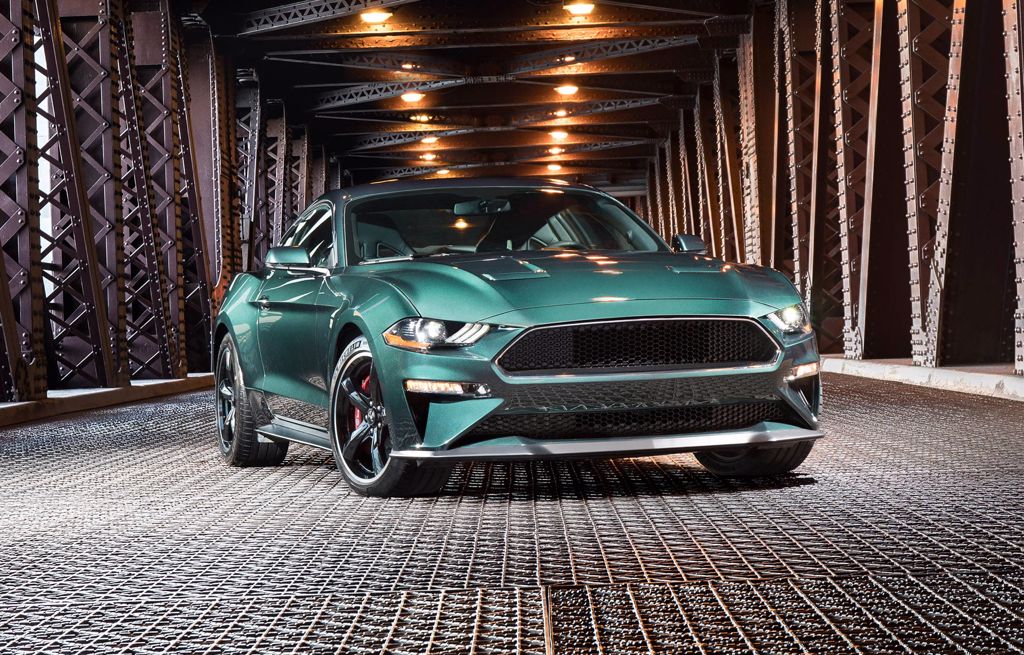 Ford Mustang BULLITT arriving October 2018
Ford Mustang BULLITT the most powerful Mustang GT yet sold in New Zealand, arriving October 2018.
Ford Mustang BULLITT will be the most powerful Mustang sold by Ford New Zealand, celebrating one of the most famous car-chase scenes in motion picture history

Enthusiasts will be able to secure one of a strictly-limited run of 50 Mustang BULLITTs destined for New Zealand, with each example individually numbered and finished exclusively in Dark Highland Green with gloss-black Torq Thrust-style alloys


Mustang BULLITT is a highly-specified Mustang, with Recaro Leather seats, 12-speaker premium B&O Audio System, Autonomous Emergency Braking, Lane Keep Assist, Adaptive Cruise Control as well as technical upgrades including MagneRide suspension as standard


The Ford Mustang is the most popular sports car in New Zealand, and has been the best-selling sports car in the world the last three years, with 125,000 sold across 146 countries during 2017


Auckland, June 19, 2018 – The Ford Mustang BULLITT will be in New Zealand showrooms this October, in time to commemorate the 50th anniversary of the iconic Steve McQueen film that saw the Hollywood legend drive a 1968 Mustang Fastback in one of the silver screen's most epic car chases.
Ford New Zealand has secured a strictly-limited number of the Ford Mustang BULLITT. Only 50 units are destined for our shores, each individually numbered at the factory in Flat Rock, Michigan. The Ford Mustang BULLITT will be the most potent Mustang yet sold through Ford New Zealand dealerships and have an RRP of $93,490, [ii] including GST.
"BULLIT is the car-chase of car chases, and we know that New Zealander are passionate about Mustang, so we're pleased to have secured our own batch of this unique model," said Ford New Zealand Managing Director, Simon Rutherford. "It further builds on the Mustang story in this country as we respond to enthusiasm for even more choice, additional features and personalisation across the line-up. New Zealander are looking for Mustangs that really stand out, and Mustang BULLITT really makes a statement."
The Mustang BULLITT will be the most powerful Mustang yet sold through Ford New Zealand, and previews the driving experience with a set of distinctive exterior hallmarks that in no uncertain terms makes this a 'McQueen' Mustang.
That starts with the exclusive Dark Highland Green paintwork, exclusive to Mustang BULLITT, matching the colour of the 1968 Fastback driven in the film. Building on the look, gloss-black 19-inch Torq Thrust-style alloys contrast the bright-red calipers of the Brembo brakes.
A BULLITT fuel filler cap is one of the considered additions, as the rest of Mustang BULLITT has seen the regular Mustang badging removed for a smooth, focused aesthetic. Mustang BULLITT stands up, and stands out.
Based on the updated Mustang GT, which is louder and more potent than its predecessor, Mustang BULLITT will be offered exclusively as a V8 coupled to a six-speed manual, true to the Mustang Fastback that hurled around the streets of San Francisco in the 1968 classic.
The 5.0-litre has been upgraded for heightened performance, with an Open Air induction and intake manifold, with 87mm throttle bodies, Ford Racing air-filter and a PCM (Powertrain Control Module) shared with the Shelby Mustang GT3.
Lifting the bonnet will reveal the most potent V8 yet fitted to a Mustang in New Zealand, with unique BULLITT badging from strut-tower to strut-tower. Mustang BULLITT's Coyote V8 delivers 345kW and 556Nm.
BULLITT's innovation extends to the standard six-speed manual, which has been extensively reworked for 2018. It will offer Mustang's rev-matching system, which delivers smoother downshifts accompanied by a 'blip' of the engine, adding to the vocal drama delivered by a standard Active Valve Exhaust.
With four modes, the Active Valve Exhaust lets you move from subtle to sledgehammer, on top of Mustang BULLITT's individual Drive and Steering modes.
Mustang BULLITT: Style with Smarts
Mustang BULLITT features both smarts and style. Mustang BULLITT comes with Mustang's MagneRide suspension an option on 'regular' Mustang GT in New Zealand - as standard equipment. The MagneRide Damping System is new for Mustang in 2018 and optimises ride and handling in a variety of situations.
This special edition Mustang also comes standard with Autonomous Emergency Braking, Lane Departure Warning, Lane Keep Assist as well as Adaptive Cruise Control. Mustang BULLITT's Driver Assist Technology also helps the driver with auto-levelling headlamps, automatic high-beam and an 8.0-inch full-colour reversing camera.
SYNC® 3 [iii] with Apple CarPlay and Android Auto [iv] is standard, but like regular Mustang GT, BULLITT comes standard with native satellite-navigation to give customers a wide choice of mapping and ways of getting from A to McQueen.
The unique interior offers signature tributes taken straight from the silver-screen BULLITT Mustang, building on the visual drama of the unique exterior. From the moment you grasp the its door-handles, BULLITT delivers with BULLITT scuff plates, unique finishes and green-stitched dash, door trims.
New Zealand BULLITT owners will also enjoy the heightened experience of a 12-speaker Premium B&O Audio system as they ride securely and comfortably in leather Recaro seats – standard from the factory.
From the driver's seat, BULLITT features Mustang's new 12.4-inch digital instrument cluster, which includes visual changes between Drive modes, taken directly from the Le Mans-winning Ford Performance GT sports car. Capping off the BULLITT theme inside is the stark-white cue-ball gear-shift knob and unique stitched gearshifter boot to make this special model unmistakably BULLITT.
Mustang BULLITT has your number
Every Mustang BULLITT will have its own individual number, which will be proudly etched into the passenger side's unique BULLITT plaque. The New Zealand market will receive 50 Mustang BULLITTs commencing in October 2018, to coincide with the 50th anniversary of Steve McQueen's Bullitt, which first screened in theaters on October 17,1968.
New Zealand customers have made Mustang the nation's favourite sports car, topping the sales charts in both 2016 and 17. The Mustang, which was developed for the first time as a global model, has also been the best-selling sports car in the world for the third year in a row, topping sales charts in 2015, 2016 and 2017 While order books are already open and filling fast, the Ford Mustang BULLITT will arrive in dealerships in New Zealand in October, 2018 with a Recommended Retail Price from $93,490[i].
Overseas model shown.
[i] Recommended Retail Price only. Price shown includes GST. The selling price of any vehicle is at the discretion of the selling Dealer.
[ii] Recommended Retail Price only. Price shown includes GST but excludes Dealer delivery fee and statutory charges. The selling price of any vehicle is at the discretion of the selling Dealer.
[iii] Not all SYNC® 3 features are compatible with all phones. For compatibility, see ford.com.au/sync.
[iv] Apple CarPlay is a trademark of Apple Inc. Android™ is a trademark of Google Inc. Both require phones with compatible versions of Apple iOS and Android™ (respectively), active data service and genuine USB cable (available separately). Message and data rates may apply. SYNC® does not control Apple CarPlay or Android Auto while in use; Apple Inc and Android™ (respectively) are responsible for their functionality. Warning: Local laws prohibit some or all of the text messaging functions while driving. Check your local road rules before using these functions.

[v] IHS Markit data 2015, 2016, 2017
News