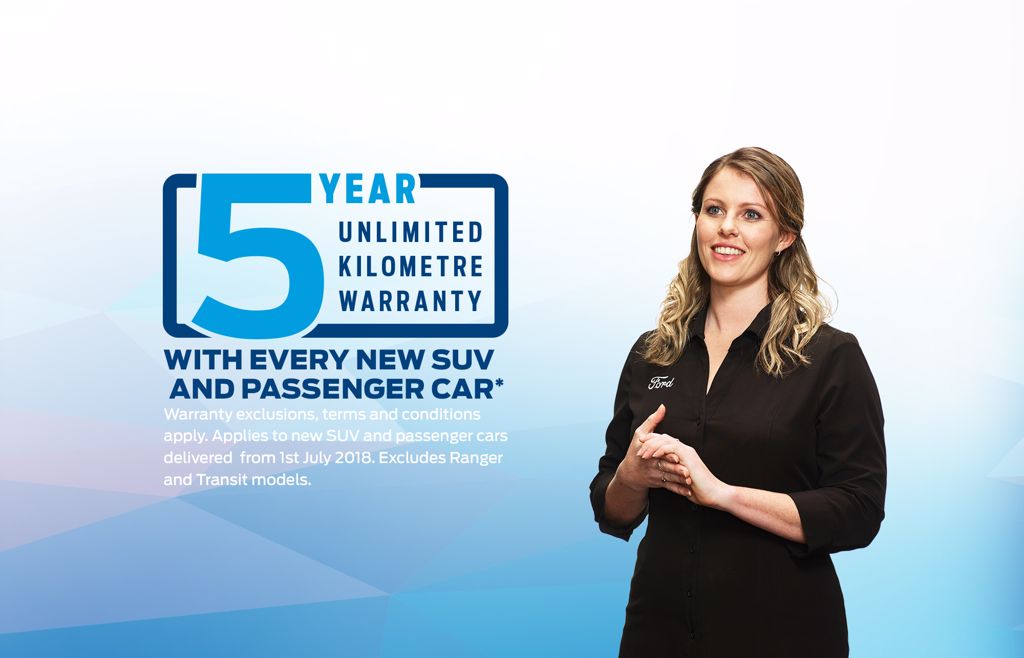 Ford New Zealand to phase in a new five-year warranty
New Five year warranty applies to all new Passenger, SUV and Transit vehicles delivered from July 1, 2018 and the new 2019 Ford Ranger with expected arrival in October 2018
Five year warranty for passenger vehicles has an unlimited kilometre clause and a class leading 150,000 kilometre warranty extension for the Transit range as well as the new 2019 Ford Ranger
This warranty extension adds to Ford New Zealand's comprehensive after-sales care package, which already includes Sat Nav updates, Roadside Assistance, Loan Car, Vehicle Report Cards, and Service Menus
2019 Ranger and Transit will have class leading standard warranty in the light commercial segment
AUCKLAND, 23 July 2018 – Ford New Zealand is phasing in a new five-year Ford Express New Vehicle Warranty on all new Passenger, SUV and Transit vehicles, and upon arrival in October this year, the new 2019 Ford Ranger.
The extension to five years also includes an extension to 150,000 kilometres for Transit and MY2019 Ranger and unlimited on all other vehicles. The warranty extensions will replace Ford's current three year 100,000 kilometre offering.
Ford New Zealand has been building a comprehensive after-sales care package since 2012, which already includes highly competitive offerings for customers such as Sat Nav updates, Loan Car, Roadside Assistance and Vehicle Report Cards. The phasing in of a five-year warranty extends the aftersales care package even further, offering customers additional peace of mind when purchasing a new Ford.
"This is a fantastic step in our ongoing campaign to enhance the Ford ownership experience," said Simon Rutherford, Managing Director Ford New Zealand. "We're transforming our dealerships, our products, our customer service and ownership experience, and today we're introducing a five-year unlimited or 150,000 kilometre warranty to offer even more value for our customers."
"Peace of mind is critical to our customers and that is what we are helping deliver today," said Rutherford.
"While we believe customers will appreciate the extended warranty, we will not stop here. We will continue to innovate and find new ways to provide the best service and benefits for Ford customers."
The new warranty complements Ford's already extensive after-sales care offering, at participating dealers, which includes:
Loan Car - To help keep customers on the road when getting a scheduled service, Ford offers a Loan Car program.
Service Price Estimate - With Ford's Service Price Estimate, dealers can provide customers with a cost of service before they arrive so there are no surprises.
Vehicle Report Card - Participating Dealers will complete a vehicle report card that gives the customer a straight-forward indication of what they looked at, and what might need looking at in the future.
Roadside Assistance - Even after a new car's standard three year Roadside Assistance ends, if serviced at a participating Ford Dealer, customers can get Extended Roadside Assistance with a scheduled service. No matter how old it is, or how many km's its done.
MapCare - SYNC® 3 vehicles with Satellite Navigation receive yearly map updates for up to seven years with scheduled servicing and SYNC® 2 vehicles with Satellite Navigation receive yearly map updates until September 2024.
For full terms and conditions on Ford New Zealand's service options, please visit:
https://www.ford.co.nz/owners/service/
Ford's new five-year, unlimited or 150,000 kilometre warranty has no buyer type restrictions.
News