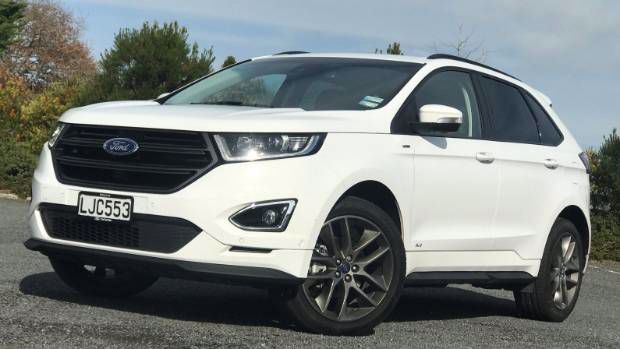 Was the wait worth it for Ford's Endura SUV?
FORD ENDURA ST-LINE
Powertrain and performance: 2.0-litre turbo-diesel four cylinder, 154kW/450Nm, 6-speed automatic, AWD, Combined economy 5.9 litres per 100km.
Vital statistics: 4808mm long, 1692mm high, 2849mm wheelbase, 20-inch alloy wheels with 255/45 tyres.
We like: Deeply impressive comfort, fantastic ride, brilliantly torquey engine
We don't like: It isn't cheap, it's two seats down on the competition and a new one is not far away.
Ford has long maintained that the Ranger ute-based Everest SUV wasn't the replacement for the Aussie-built Territory. The Territory's replacement was always going to be the car known as the Edge globally. But because Toyota owns that particular name in Australia and New Zealand, now that it's finally here our Edge is called the Endura. Because there are only so many good names that start with an E.
Finally? How long has it been around for?
It's new to us, but not really new: Endura SUV has been around since 2014.
The Endura has taken its time getting here - the latest incarnation of the Edge was released in the US market in 2014 and we popped across to Jordan to drive the LHD version in the desert in 2016, the same year it went on sale in the UK in RHD form.
The long wait mirrors the drawn-out launch of the latest-generation Mondeo, that was close to being a three-year old car when it finally arrived in NZ.
It's all really down to Ford being a "global" company now, albeit one that places the emphasis on LHD markets, with the rest of us just having to wait to get the steering wheel on the other side of the car.
That said, we are getting the Endura sooner than our cousins over the ditch - Ford Australia is waiting for the facelifted version that drops next year, while Ford NZ couldn't wait, taking a limited run of high-spec ST-Line variants now before the the updated version arrives in 2019.
Does that mean ours is a bit old-tech?
Something starting with E: Ford's new SUV is called Endura here, Edge in other places.
The ST-Line is packed with technology, including driver assist and safety tech like roll stability control, curve control, emergency autonomous braking, lane keeping aid, blind spot monitoring, rear cross traffic alert, adaptive cruise control and active park assist (perpendicular and parallel) with pull out assist.
It also gets Ford's latest Sync3 infotainment system, complete with an 8-inch touchscreen, satellite navigation and phone mirroring.
Befitting its $70k plus pricing, the ST-Line is also packed with standard equipment you would expect from its price tag, but while the there is a lot of tech and equipment, it doesn't all feel quite as cutting edge as you might like.
The best example of this is the adaptive cruise control system that, while good, isn't quite as good as the newest systems from the likes of Mazda.
This alone may have made Ford Australia's call to wait a better one, but the Endura still has quite a lot to recommend it as it stands, because it does the basics very well indeed.
Do you mean it drives well then?
Packed with technology and comfort/convenience equipment, but doesn't feel as modern as it should.
I most certainly do.
The Endura boasts a superbly comfortable ride and a well controlled chassis, with sharp and nicely weighted steering. Being based on the same platform as the Mondeo means that the Endura has a transverse mounted engine driving all four wheels, but it also means that it is has a dynamically excellent starting point.
While it wasn't ever going to be as sharp as the Mondeo, the Endura is nicely agile for a large SUV, while remaining impressively comfortable at all times.
Quiet too, particularly because of the excellent active noise cancellation system that comes as standard and works extremely well.
The 2.0-litre twin-turbo four-cylinder diesel engine is a sweetly smooth unit that has a brilliantly strong mid-range, making the Endura nicely capable on New Zealand roads.
The engine pumps out 154kW of power and a nice, fat 450Nm of torque and is hooked up to a six-speed dual clutch transmission that matches the engines smoothness with an impressively swift and slick operation.
So is it a good replacement for the Territory then?
Endura is only available as an ST-Line for now. Expect a wider range when the updated model arrives.
That depends on what you expect from it.
With it six-cylinder engine and RWD chassis, the Territory will always be a better bet for towing, while the Endura is only available as a five-seater, with no seven seat version available (although a seven-seat version is built in China).
But Ford argues that the Everest is there for anyone wanting either of those things, while the Endura takes up the comfortable family-hauler mantle (providing there are five or less in the family, that is) that the Territory also handled. And it does that very well indeed.
It's smooth, comfortable and impressively frugal as well (Ford claims an average consumption of just 5.9L/100km and we easily saw under seven during our time with it), as well as being packed to the gills with tech and equipment.
Any other cars I should consider?
Mondeo platform is an excellent starting point if you like your SUVs to drive well.
The Toyota Highlander Limited is the obvious competition, and is clearly the vehicle Ford was aiming at with the ST-Line. At $71,990 the Toyota packs the impressive 218kW 3.5-litre V6 previously only found in Lexus models, which will either be a selling point for you or a reason not to buy it.
Holden's forthcoming Acadia will be another possibility. It too is aimed squarely at the Toyota, and Holden has indicated that it will be priced at similar levels as well. However the Acadia too is only powered by a petrol V6.
Moving to the less dynamic ladder-chassis opposition, and entry level Toyota Prado ($70,990) and Ford Everest Trend ($75,990) are diesel powered, but far less sophisticated, while the likes of the Mazda CX-9 and Nissan Pathfinder are similar, but cheaper at $57,495 and $65,490 respectively in their top-spec guises.
Or maybe wait for this one. Facelifted Endura on the way later this year.
It should also be noted that every one of the vehicles mentioned here are seven-seaters too.
But the biggest competition the Endura ST-Line has is the forthcoming refreshed version that should land here sometime in 2019.
"Why would I want to rush out and buy the old version when the new one is not far away?" you may ask yourself. And as good as the Endura is, I am not sure why you would want to either.
- Stuff
Damien O'Carroll
https://www.stuff.co.nz/motoring/104887949/was-the-wait-worth-it-for-fords-endura-suv
News