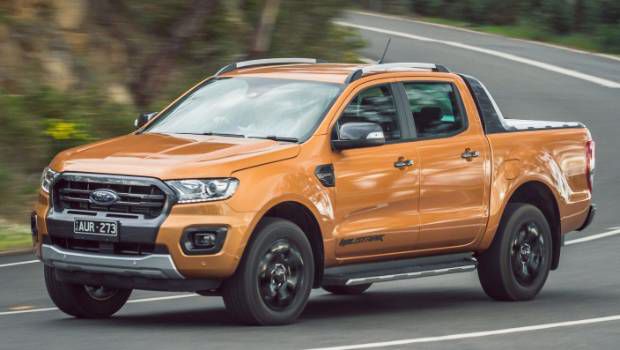 NZ's favourite vehicle has just upskilled
FORD RANGER
Price range: $37,990 (4x2 2.2-litre single-cab chassis) to $$71,990 (Wildtrak biturbo).
Powertrains: 2.2-litre turbodiesel four (118kW/385Nm, 7.8 litres per 100km), 2.0-litre twin turbodiesel four (157kW/500Nm, 7.4l/100km), 3.2-litre turbo diesel five (147kW/470Nm, 8.9l/100km). Six-speed automatic (2.2, 3.2), 10-speed automatic (2.0) RWD or part-time four-wheel-drive.
Body styles: Single cab, extra-cab, double cab.
On sale: Now.
There's a new Ford Ranger in town: New Zealand's best-selling vehicle has received a major upgrade.
Make me an instant expert: what do I need to know?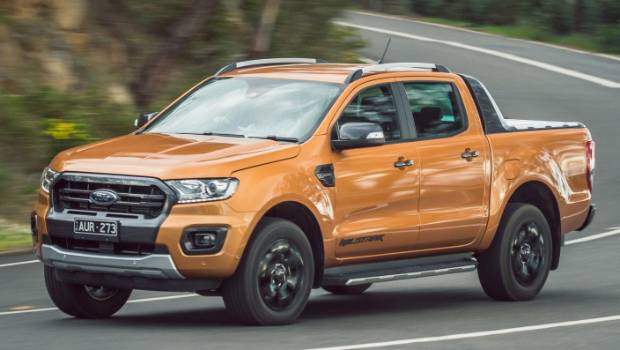 Ranger's second upgrade delivers suspension changes and general refinements - an easier-lift tailgate, rear parking sensors (except on cab-chassis), push-button start, slight restylings inside (black trim bumping grey) and out (wheels, grille) - to all models.
Wildtrak now offers the 2.0-litre biturbo diesel and 10-speed automatic that debuted in Ranger Raptor as an alternate to the incumbent 3.2-litre five cylinder with a six-speed auto. It also gets self-parking, automated emergency braking and auto stop-start (with the biturbo).
Ford also continues the entry 2.2 turbo diesel, all six-cog auto 'cos no-one bought the manual.
Where did you drive it?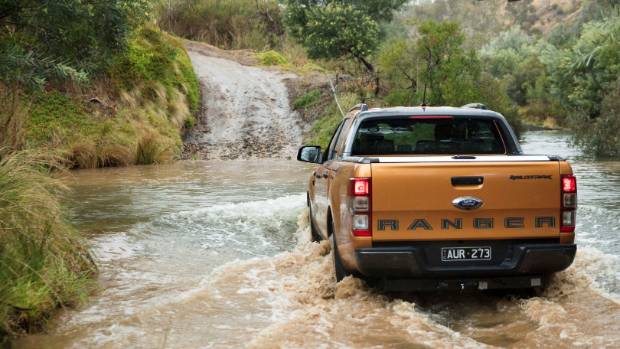 On highways and country roads, plus at an off-road park, in Victoria, Australia.
The Melbourne 4x4 Training and Proving Ground is a Ford Australia haunt.
What's the pick of the range?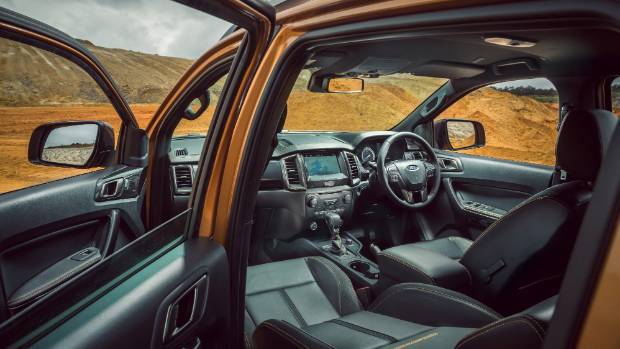 The biggest styling changes affect the XLT. It gets high-intensity discharge headlights, LED daytime running lights, a new grille, keyless entry and push-button start, optional 18-inch rims, plus some decorative cabin finishes, though Ford NZ is avoiding an Aussie market initiative to offer the biturbo as an alternate to the five-pot. That might change.
Meantime, if you want full tech, comfort and engine choice, it's Wildtrak or walk. Cynical or canny? Either way, the 'Trak is by no means a poor selection. Insofar as equipment goes, it beats everything, including the $15k-dearer Raptor (in that the desert truck lacks AEB).
Over and above XLT come LED fogs, power-lock tailgate and partial-leather heated front seats. Traffic sign recognition, Active Park Assist and AEB also add. These might seem fripperies to traditionalists, yet with utes gaining ground for urban usage and family acceptance, it could prove hugely prescient to now have in a vehicle of this size and substance systems that reduce inner-city parking pain and have proven ability to avoid vehicle-on-pedestrian incidents.
Which Wildtrak drivetrain represents best value and, come to think of it, why have two engines anyway?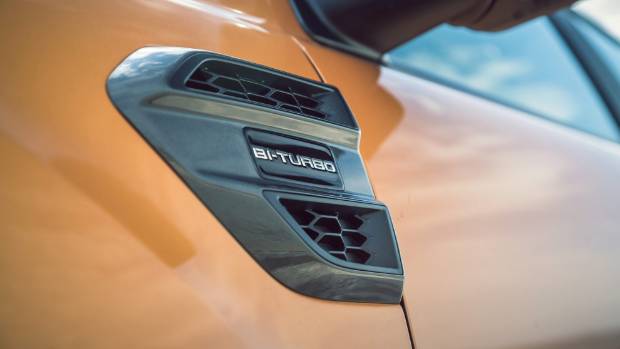 The biturbo is clearly the long-term game and it stacks up well, outnumbering on power, torque and economy, matching the 3.2 in being able to tow 3.5 tonnes and providing a slightly better payload. This drivetrain is also a step-up in suaveness and sophistication. All this for just a $1000 premium over the 3.2-litre (which also now places $1350 over its predecessor).
You'll wonder why they just didn't drop the 3.2, as has occurred with Everest. It seems this will undoubtedly happen, but not just yet: they're judging customer acceptance.
Thing is, that five-cylinder has been a fan favourite and Ranger is so vital to this brand locally they don't want to jinx its golden run. Taking a bet each way and easing the customer base into the new way seems a sensible strategy.
And, yet, it's hard to see the five going quietly. This first opportunity to compare suggested operationally the smaller engine is no clear-cut conquerer.
Sure, the new item is quieter and smoother stepping off, is more immediately revvable and more economical and should emit fewer exhaust nasties (though, like the 3.2, it's Euro V-rated). The transmission is smarter and slicker. I liked it.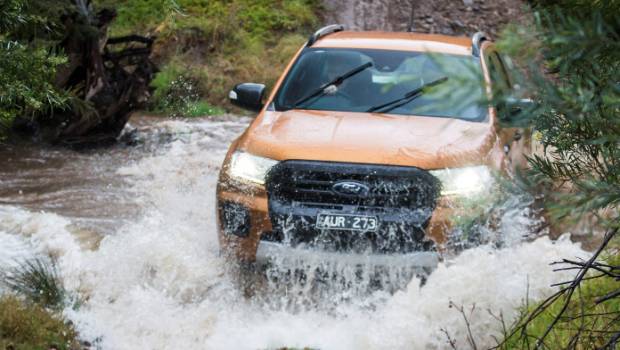 Yet I also continued to enjoy the 3.2. For one, new mill's 10kW and 30Nm advantage isn't all that evident. Both engines pull around 1500rpm on the highway, yet the five's power band is clearly wider, it feels strong in all the right places and its deeper-noted gruff thrub under load is gutsier than the four's lower-toned warble.
That only the four-cylinder was used for an off-road section made quite challenging by ceaseless rain was presumably to strengthen its case, but it also reminded how busy a 10-speed can become. On ascents where the six-speed might have been expected to slip back one gear, the tenner seemed to drop by three.
Another thing: maybe it's the extra weight up front, but the 3.2 feels more balanced, better planted. Not to say either didn't ask for care on rain-slick roads; each could be tail-happy. The suspension now achieves stiffer anti-roll bars and a more pliant spring rate, the aim being to reduce and better control bodyroll, mainly to enhance towing and fully-laden response. Unladen ride remains busy and, as before, the bigger the tyre, the more surface texture passes through.
Only doublecabs were driven. No hassle with that. The Kiwi favourite four-door is comfortable and roomy. Divesting the grey tones for black is a good idea. The plastics will be less likely to show scuffs. Mind you, surfaces are still hard-as. The new driver assist tech can be a bit fiddly to enact, too.
Why would I buy it?
Because it's generally a well-considered update of an accomplished sector and sales giant effected for modest price changes.
Why wouldn't I buy it?
Because you don't need the show pony and think the workhorses need more attention.
Richard Bosselman - STUFF
https://www.stuff.co.nz/motoring/road-tests/107840214/nzs-favourite-vehicle-has-just-upskilled
News