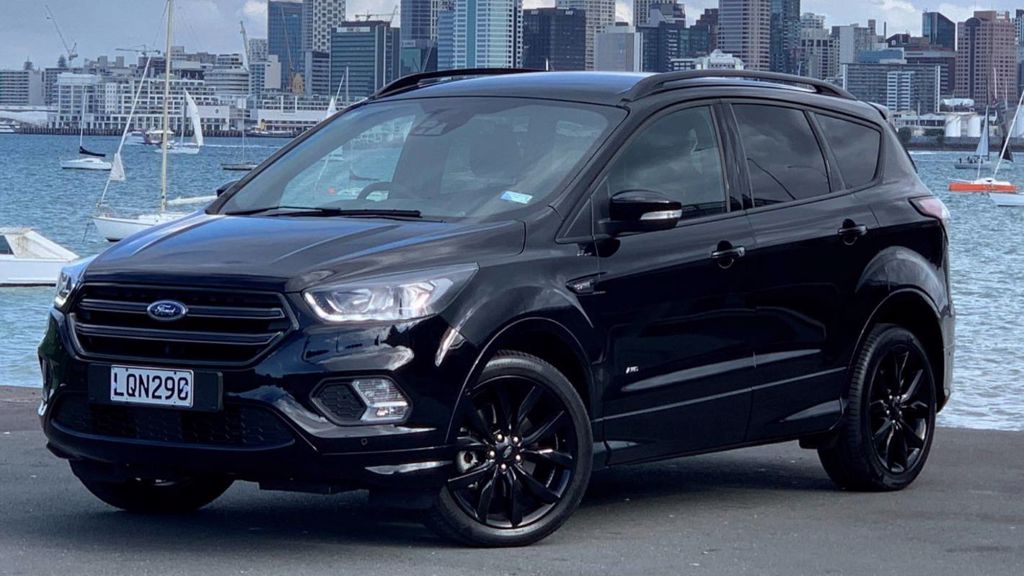 Ford SUV trying to escape the ordinary
FORD ESCAPE ST LINE
Base price: $39,990.
Powertrain and performance: 2.0-litre turbo-petrol four, 178kW/345Nm, 6-speed automatic, AWD, Combined economy 8.6 litres per 100km.
Vital statistics: 4524mm long, 1736mm high, 2690mm wheelbase, luggage capacity 406-1603 litres, 19-inch alloy wheels with 235/45 tyres.
We like: Power, good ST Line chassis upgrades, hard-to-ignore price.
We don't like: Dated cabin, auto gearbox lethargic in town.
You have to feel sorry for the Ford Escape. It's a model from one of the world's biggest automotive brands, competing in New Zealand's single biggest market segment: medium SUVs.
And yet Escape sold at half the rate of the Toyota RAV4 last year (admittedly, many of the latter are rental and fleet) and achieved just 30 per cent the volume of the Mazda CX-5.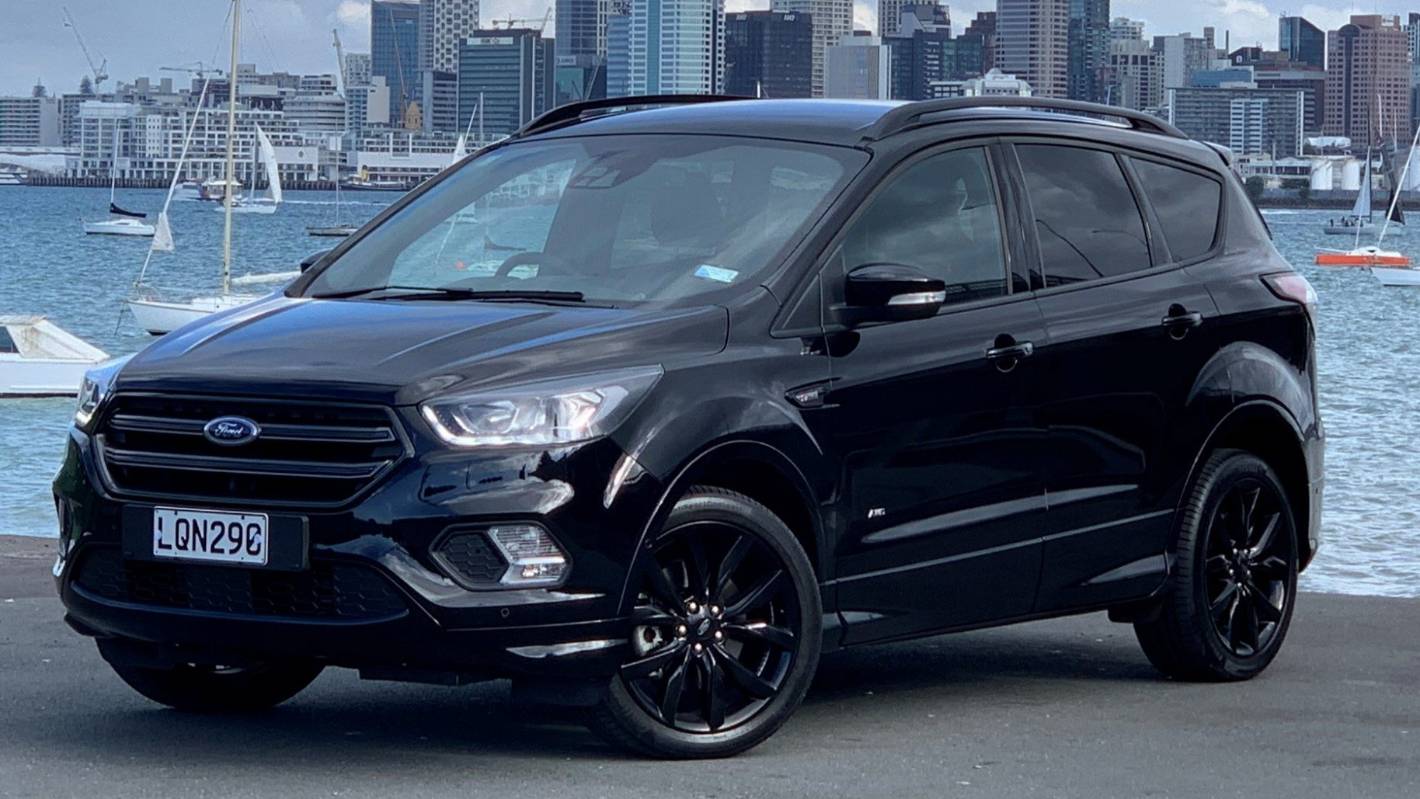 Escape was also outsold by the Kia Sportage, Mitsubishi Outlander, Nissan X-Trail and Honda CR-V.
Why? Hard to say when there's a wide range of models available, petrol or diesel, two or all-wheel drive, cheap and cheerful or fully loaded.
But clearly, there's an X-factor absent from Ford's family SUV. Which is why the Blue Oval is trying to put some sizzle into the Escape brand with a sportier ST Line version. If that didn't get your attention, it's hoping a special price of $39,990 (full retail is $49,495) until the end of March will.
ST is the fast one, right?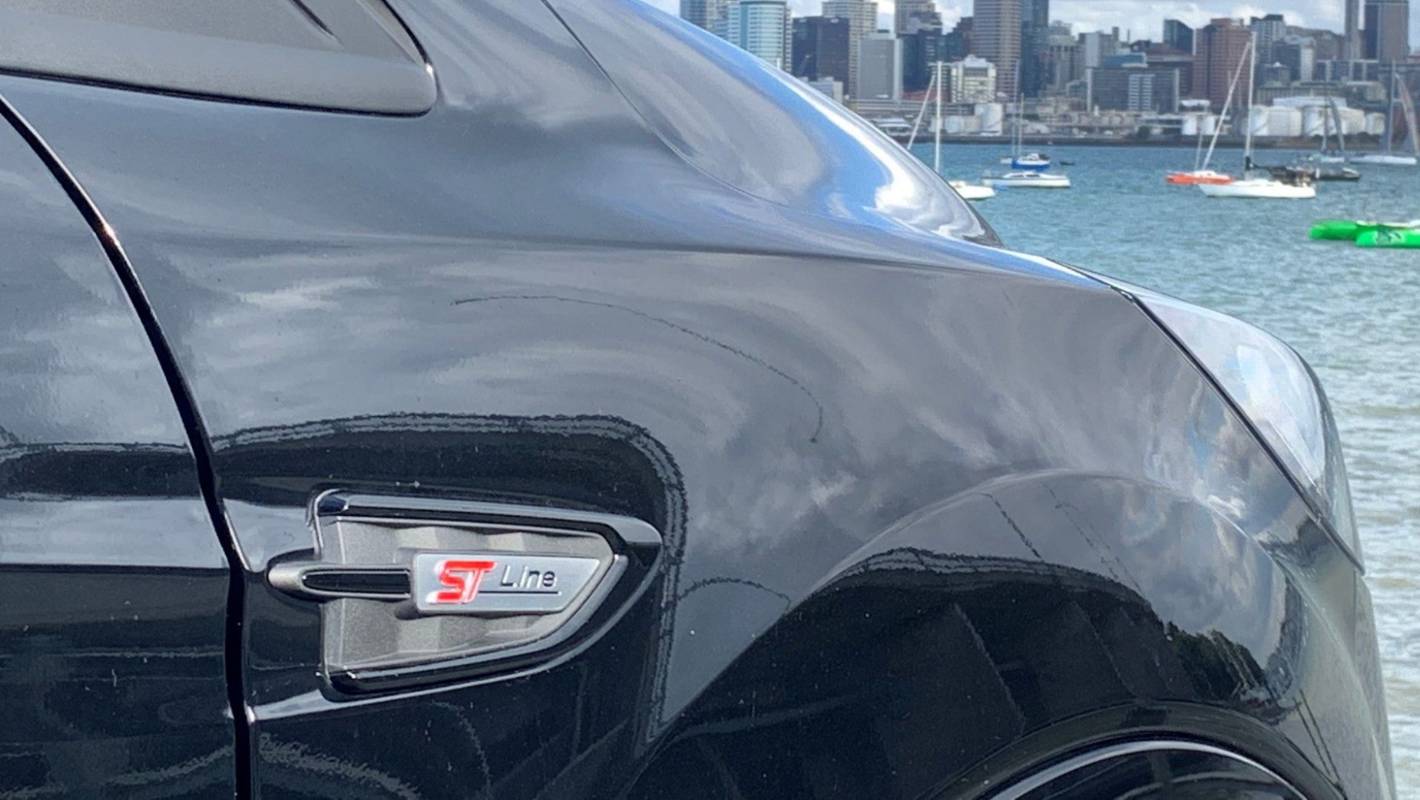 Not quite. In the world of Ford, there's a range of ST models that are faster and more focused than your average family transport; you'll know the Fiesta and Focus ST models, but there's also an ST incarnation of the latest Endura SUV in Europe and the US.
ST is not to be confused with "ST Line", which is more angled towards style than dynamic substance. You can spot the Escape ST Line by the Absolute Black 18-inch alloys, blacked-out exterior detailing and part-leather sports seats with red stitching.
But it's not entirely about looks. The steering has been recalibrated, ride height has been dropped 10mm and there are thicker anti-roll bars.
Is it sporty enough then?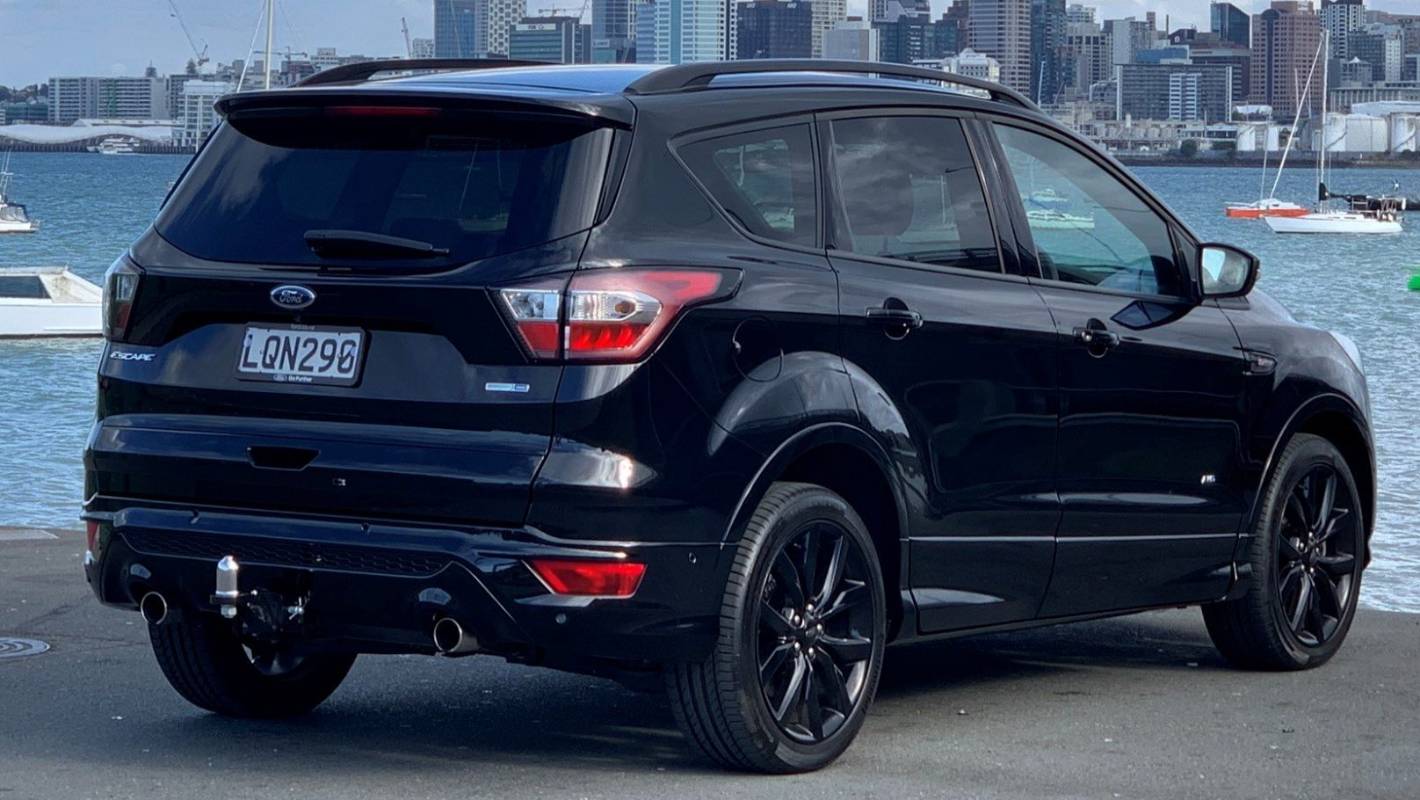 There are no changes to the Escape's 2.0-litre EcoBoost powertrain for the ST Line, but it's still a good base to work from. With 178kW even in standard trim it's right up at the pointy end of the segment for output: the CX-5 has 140kW (okay, 170kW in the new $60k Takami model), the Kia Sportage 135kW.
Ford is moving past those well-publicised "issues" (that's a polite word for it) with dual-clutch transmissions. The Escape has a conventional six-speed automatic, with steering wheel-mounted shift paddles.
In urban driving the gearbox takes some of the edge off the grunty engine by slurring between gears, but it is smooth. Press the go-pedla hard and the ST Line feels entertainingly brisk; but then so does any other 2.0-litre Escape.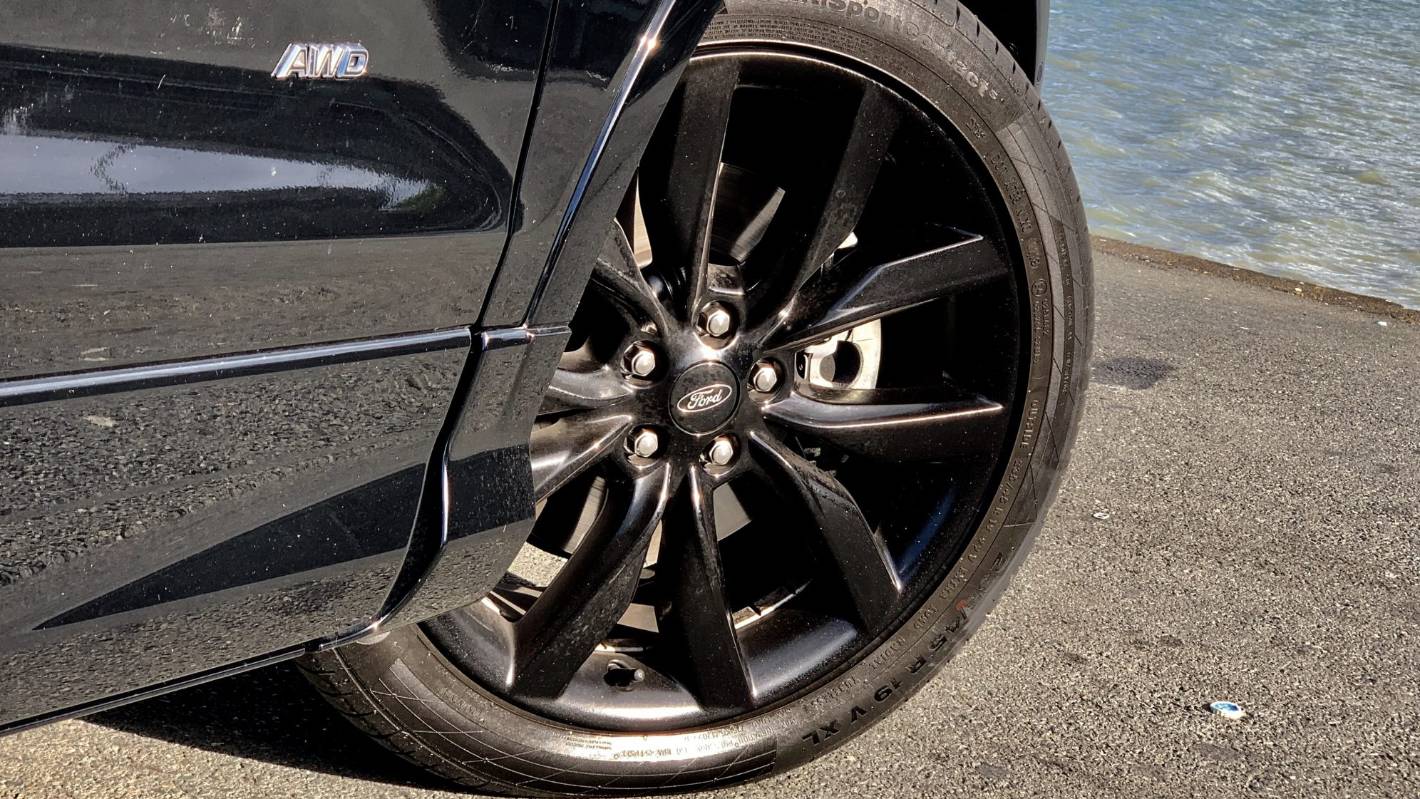 You definitely feel the difference in the chassis. The steering has substance (other versions of the Escape have been criticised for lacking it) and the chassis has gained firmness and control with giving away too much in ride quality.
It's surefooted on the road, rides on decent Continental rubber and the AWD system feels sophisticated; torque vectoring by braking is standard. Don't expect the last word in nimble responses, because this is a relatively heavy machine at 1777kg; but it feels confident.
You experience a bit more fussiness in the secondary ride than with the standard car, but the ST Line is still a comfortable family SUV for urban driving.
What's it like to live with?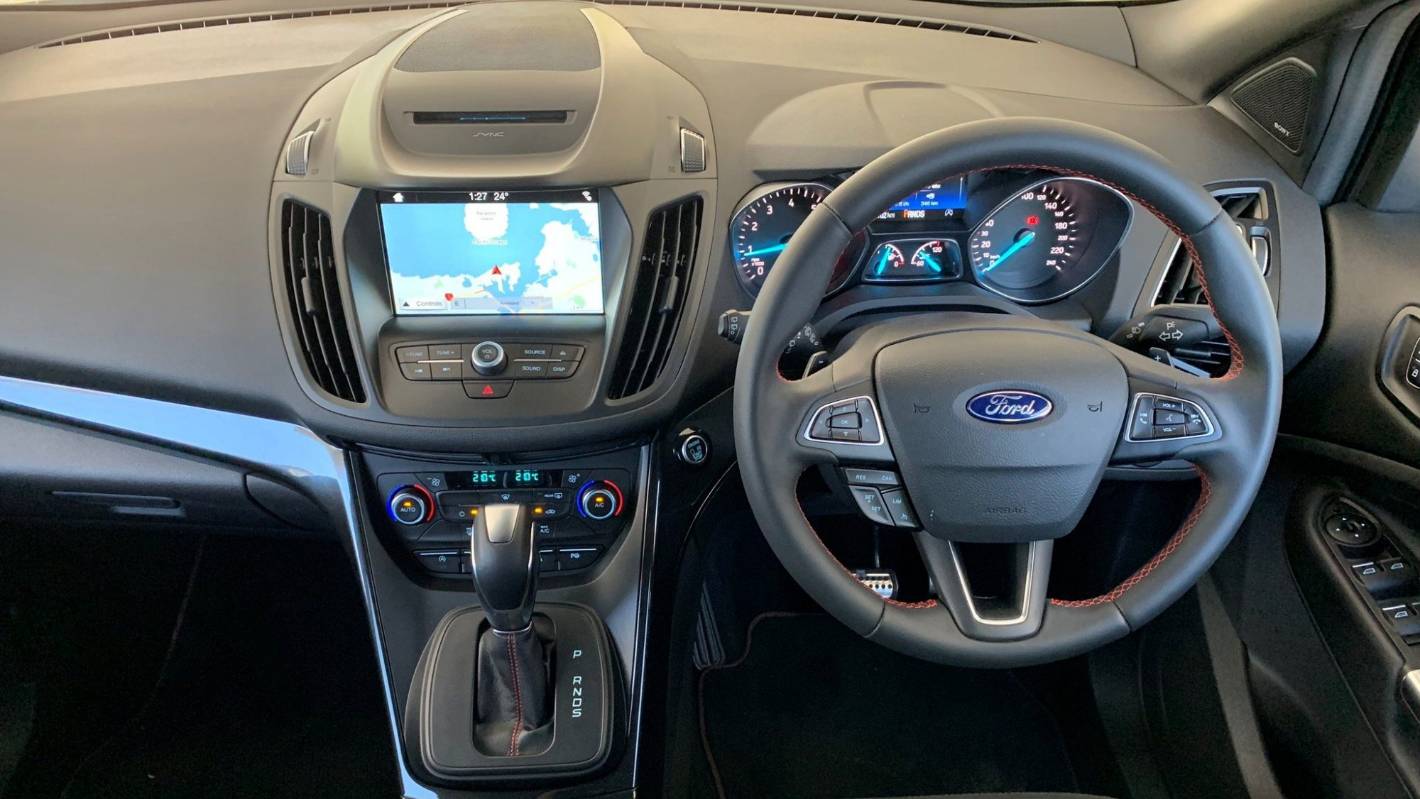 A dated cabin is one thing that has no doubt held the Escape back. The dashboard architecture looks and feels generations old in terms of design and layout - at least compared with what's on offer from rival brands.
The information and entertainment screen is recessed into the console and set at what seems like a slightly downward angle - enough to be annoying at least. The near-vertical pad of switchgear and proudly top-mounted CD player (yes, a CD player) are a bit early-2000s.
Shame, because while the ergonomics and visual appeal are flawed, Escape gets Ford's Sync 3 infotainment setup, which does a brilliant job of integrating the vehicle's own operating system with Apple/Android phone projection. You can let one or the other dominate - or combine them in a tile format.
Sporty ST Line bits aside, this model is closer to the mid-level Trend than the top Titanium. You get the crucial safety stuff like autonomous braking (now standard on all Escapes) and blind-spot monitoring, plus a few fancy touches like automated parking. But there's no adaptive cruise or HID headlights like you get on the Titanium.
The seats are manual (no hardship, we like them better that way) but so is the tailgate; again, you only get the gesture-activated door on the top Titanium.
Is that Model T black?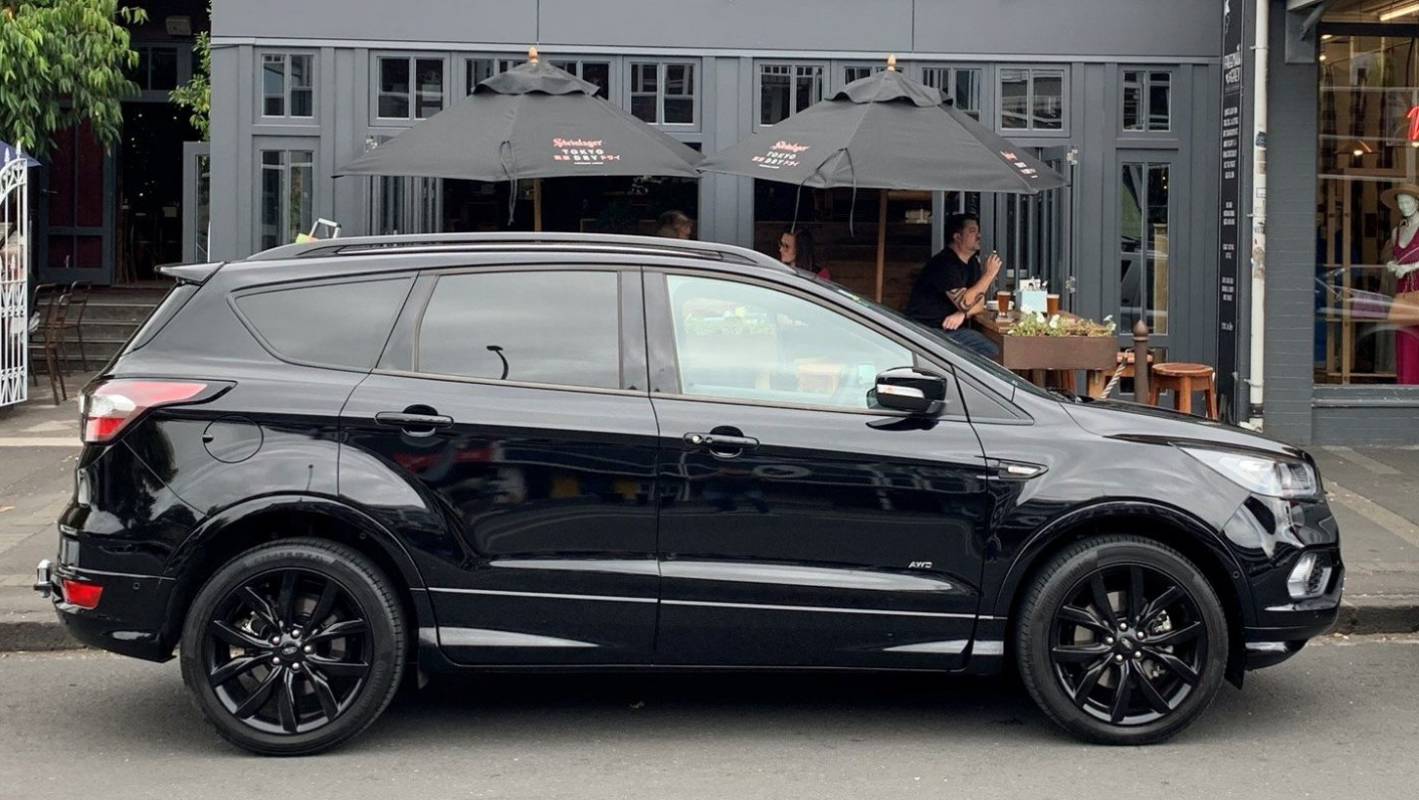 Hilarious. Black on black on black doesn't always work on cars, but we reckon it suits the Escape ST Line rather well.
However, there is a choice of more cheerful hues if you want. No matter what the body colour, you still get the black wheels, grille, foglight borders, window surrounds and roof rails.
Any other cars I should consider?
The Escape ST Line has carved out a nice little niche for itself. There are plenty of good-to-drive medium SUVs out there, but nothing in the mainstream market that combines this kind of power with a specifically sporting focus to make it a bit special.
To get something similar in concept and execution you have to look to the Volkswagen Tiguan R-Line ($68,990) or perhaps Seat Ateca FR ($50,900). The Escape ST Line might lack a little polish in some respects compared with those high achievers, but at $39,990 it looks like an absolute (black) bargain.
Dave Linklater
-Stuff
https://www.stuff.co.nz/motoring/road-tests/110485109/ford-suv-trying-to-escape-the-ordinary
News