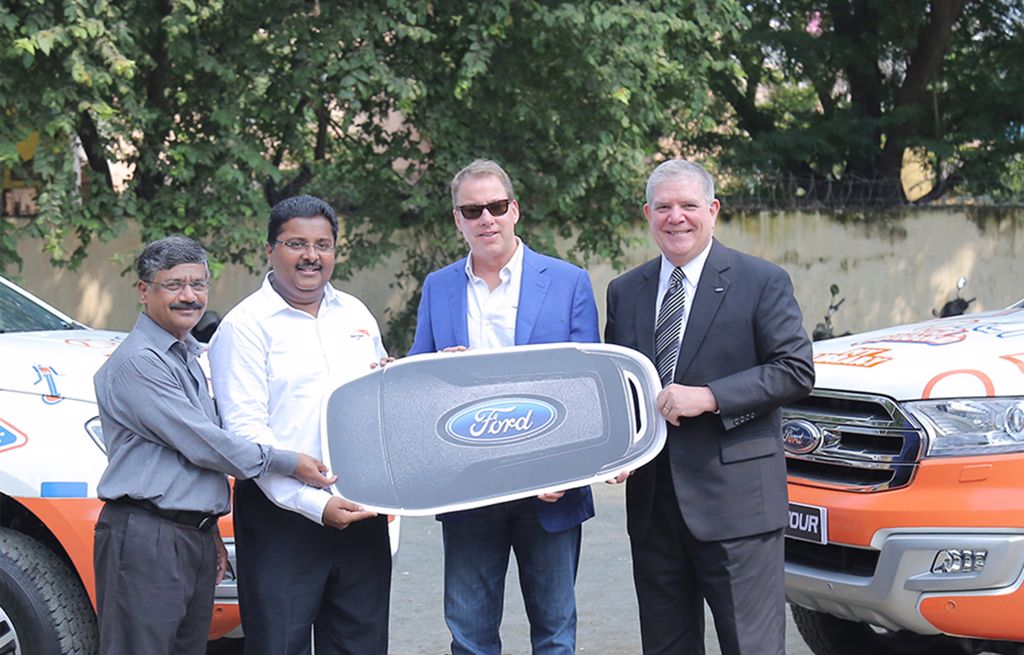 Worthy Endeavour
Ford Hands Over SUVs
World Vision to use two new Ford Endeavour SUVs to help deliver healthcare and education services to rural and remote communities. Ford Executive Chairman Bill Ford handed the vehicles over to World Vision today in Chennai
Part of Ford's Project Better World, the initiative aims to deliver smart mobility solutions for humanitarian organizations and social entrepreneurs to address local priorities where it operates
Ford's OpenXC platform to provide SUVs with enhanced functionality and location-based services, even far from cellular networks
Ford Motor Company today handed over two special equipped Ford Endeavour vehicles to World Vision to help improve the lives of rural people in India through vital services such as healthcare and education.


Part of Ford's Project Better World, the initiative aims to deliver smart mobility solutions for humanitarian organizations and social entrepreneurs working with remote and impoverished communities. By providing its advanced vehicles and connectivity technologies, Ford is making measurable improvements to people's lives.


Looking beyond the traditional role of vehicles

"Mobility is a challenge throughout the world, but particularly in India," said Ford Executive Chairman Bill Ford, who was in Chennai to hand over the vehicles to World Vision. "We are looking beyond the traditional role vehicles play in society to find solutions that address real mobility problems and help make a positive impact on people's lives. By pairing vehicles with connectivity technology, we can help reach underserved and remote communities that desperately need critical services, like health care and education."

The vehicles will be equipped with Ford's OpenXC platform. This will enable World Vision to work smarter, use location-based services like maps and GPS tracking to arrive on time in rural areas and collect field data on the people they help, even in areas where there is no cellular network. The success of aid organizations like World Vision hinges on reliable and efficient mobility services.
The two Ford Endeavours will be used for:
Ford Endeavour #1: Mobile Health: The vehicle will allow a World Vision doctor and a nurse/helper to provide health related services, medicines, preliminary diagnosis and education to rural villages. The vehicle will be equipped with a refrigerator, TV and AV unit (speakers, DVD player), Wi-Fi provision, stretcher/patient seat and a small step ladder to help patients enter and exit the vehicle.
Ford Endeavour #2: Mobile Library: Equipped with 150 books (covering topics that vary week to week), 5 laptops and Wi-Fi connection, the World Vision Mobile Library will be used for literacy and online learning activities. It will also have a TV that will allow children to watch training and educational videos.
News