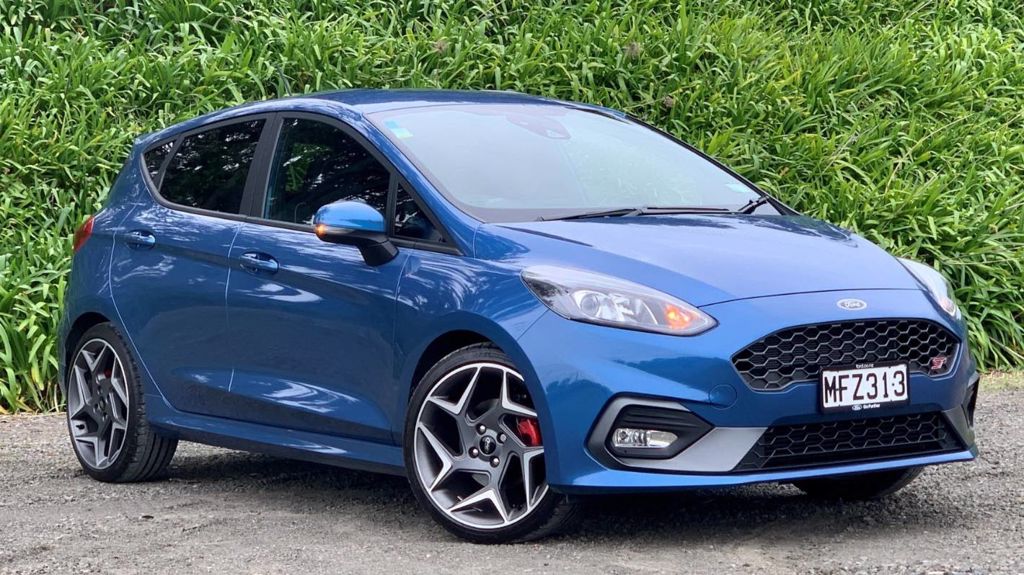 Road test review: Ford Fiesta ST
FORD FIESTA ST
Base price: $35,490.
Powertrain and performance: 1.5-litre turbo-petrol three-cylinder, 147kW/290Nm, 6-speed manual, FWD, fuel economy 7.0 litres per 100km (source: WLTP), 0-100kmh 6.5 seconds.
Vital statistics: 4068mm long, 1469mm high, 2493mm wheelbase, luggage capacity 311 litres, 18-inch alloy wheels with 205/40 tyres.
We like: Engine bursting with character, chuckable chassis, correct hot-hatch size (small).
We don't like: Muddy steering, bulky Recaro seats won't suit everybody,
Back in the day, hot hatches were tiny and cheeky. They still are at Ford Performance, which has launched a new-generation Fiesta ST.
Is this a properly new Fiesta?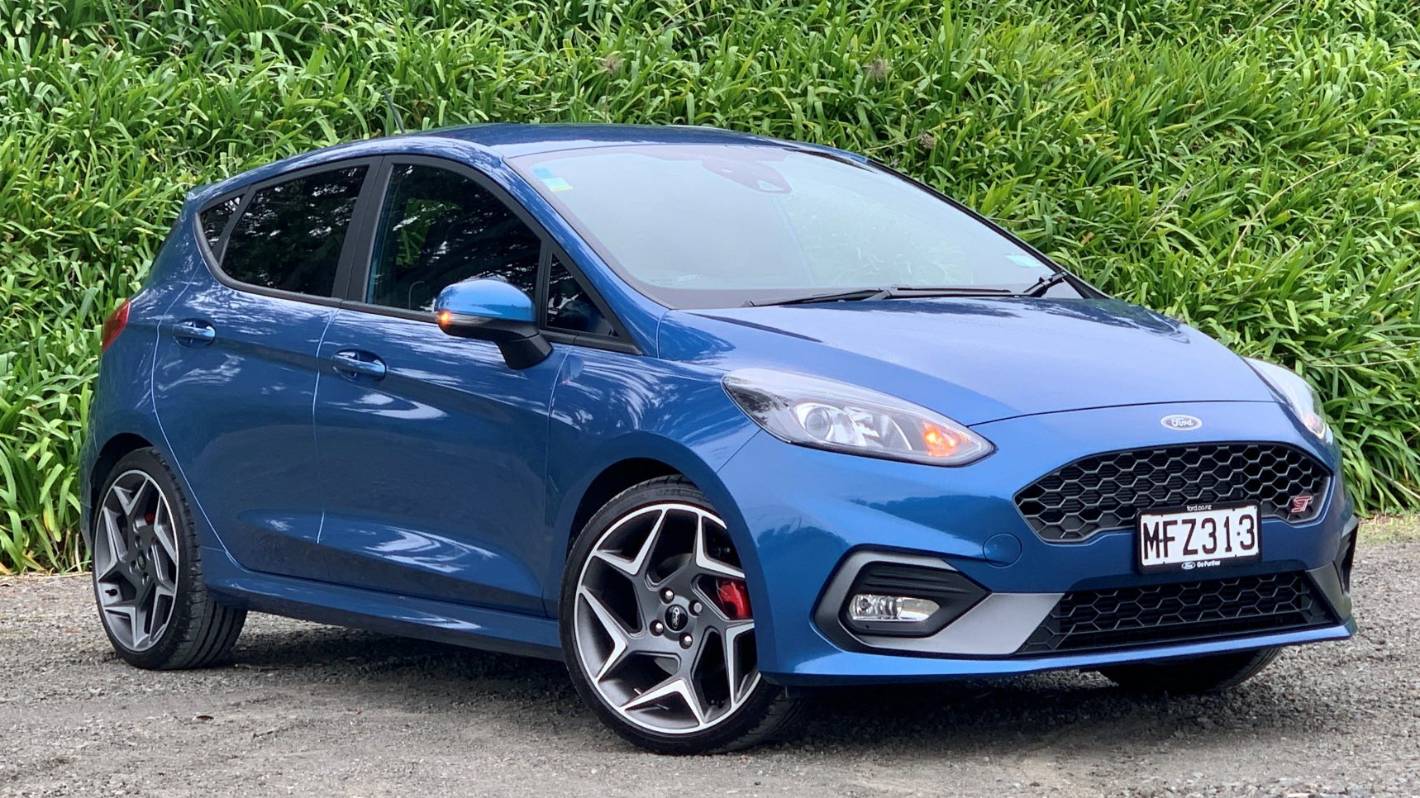 It sure is, although you might not have heard a lot about it. There are two good reasons for that.
The first is that while there's a full range of new-generation Fiestas on sale in Europe, the severe decline in traditional small-car sales in New Zealand means we're only getting the top-of-the-range ST hot hatch.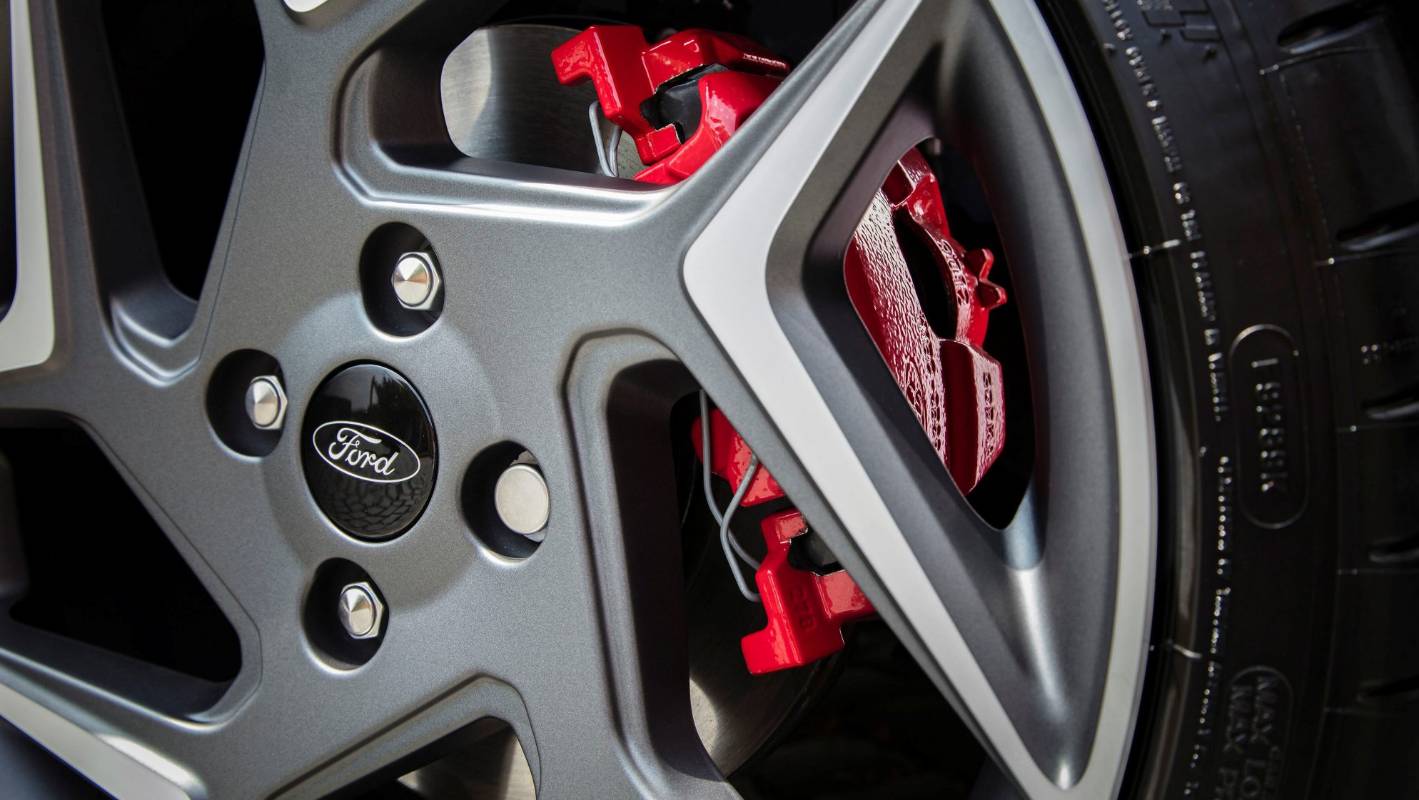 The second is that the Fiesta ST isn't technically on sale yet. It won't reach Kiwi showrooms until next year, but we've just spent a week in a UK-specification model that's not exactly as the local model will be configured - but mechanically and therefore dynamically the same.
So feel free to go and bother your local Ford dealer about the Fiesta ST right now. Just don't tell them we sent you.
How does it score on the tech-o-meter?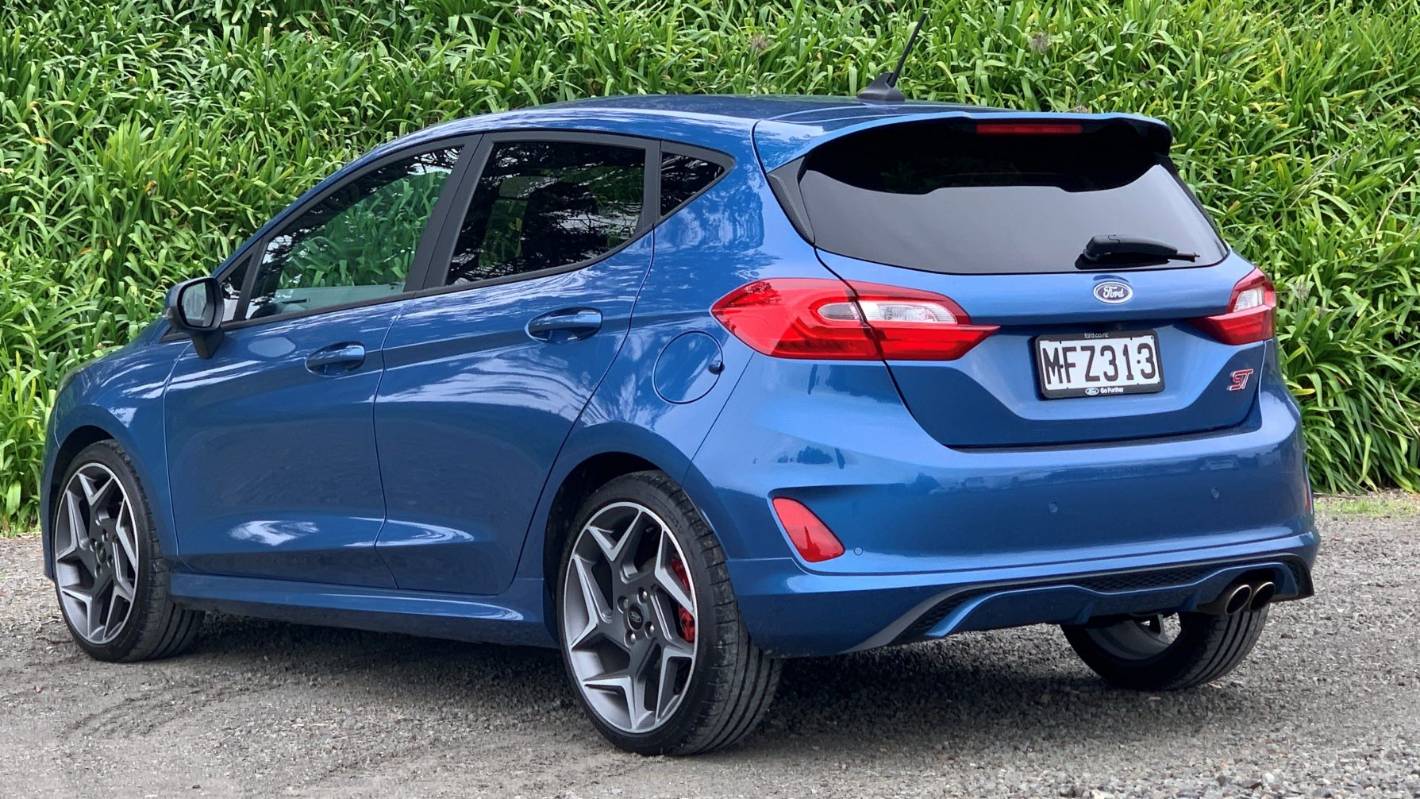 Conceptually, this is quite an old-school hot hatch: tiny, stroppy and with a conventional manual gearbox.
But the Fiesta ST is also full of techy stuff. For a start, the 147kW/290Nm engine is an all-new three-cylinder unit. Yes, three. And yes, that power output is correct. Maximum torque arrives at just 1600rpm, thanks partly to an integrated exhaust manifold, which helps the turbocharger do its thing more quickly.
This is the first Ford Performance (that's the division where modern go-fast Fords are created, including the Ranger Raptor) model to have a three-pot engine and it can in fact become a double, because one shuts down in light running.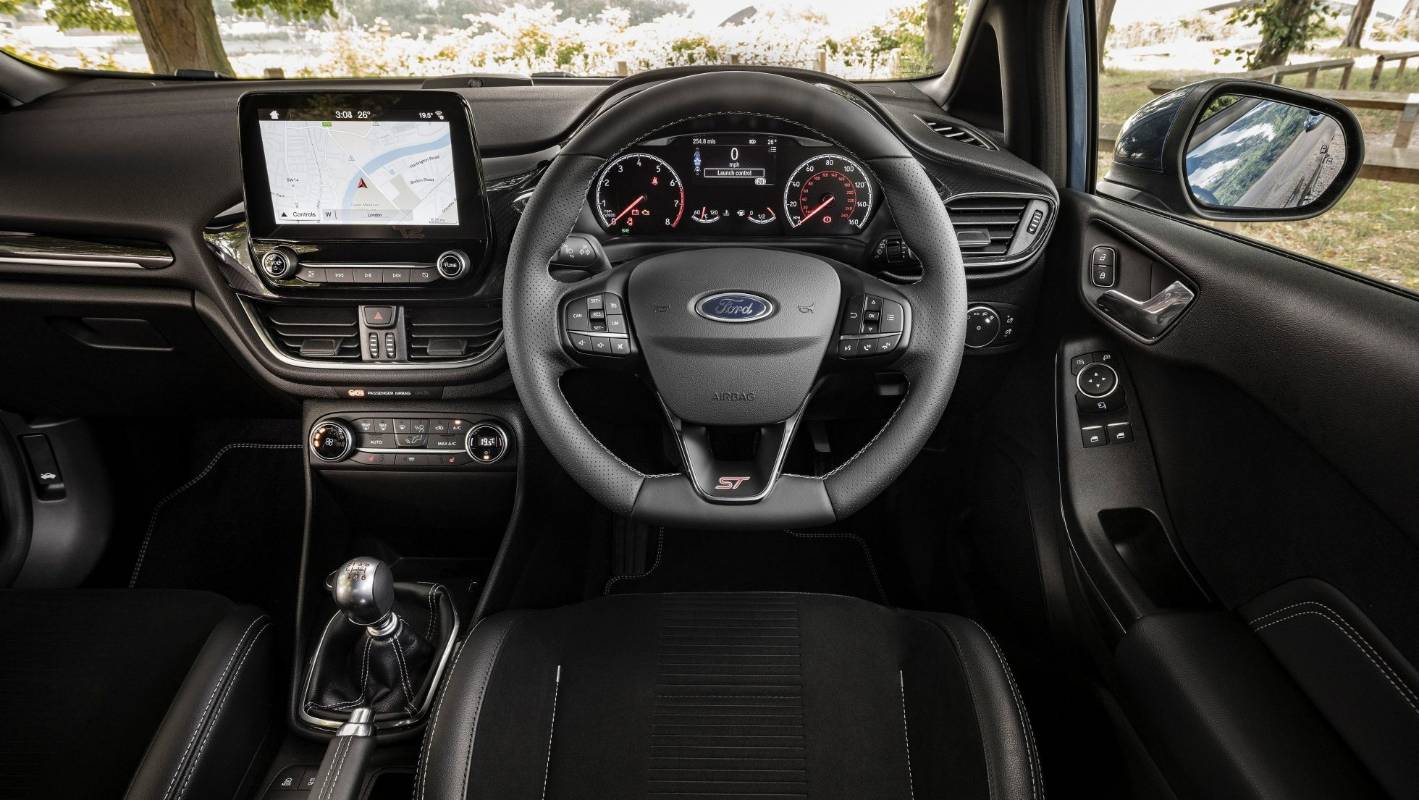 This also the first Fiesta ST to have drive modes (Normal, Sport and Track) and that little engine drives the front wheels with the help of a Quaife Limited Slip Differential - that's a proper mechanical one, folks. Launch control is standard.
Other chassis tech includes torque vectoring by braking and special Tenneco dampers - the same brand used on the Focus RS. At the back, there are something called "force vectoring" directionally wound springs that further stabilise the car in tight corners.
How does it score on the fun-o-meter?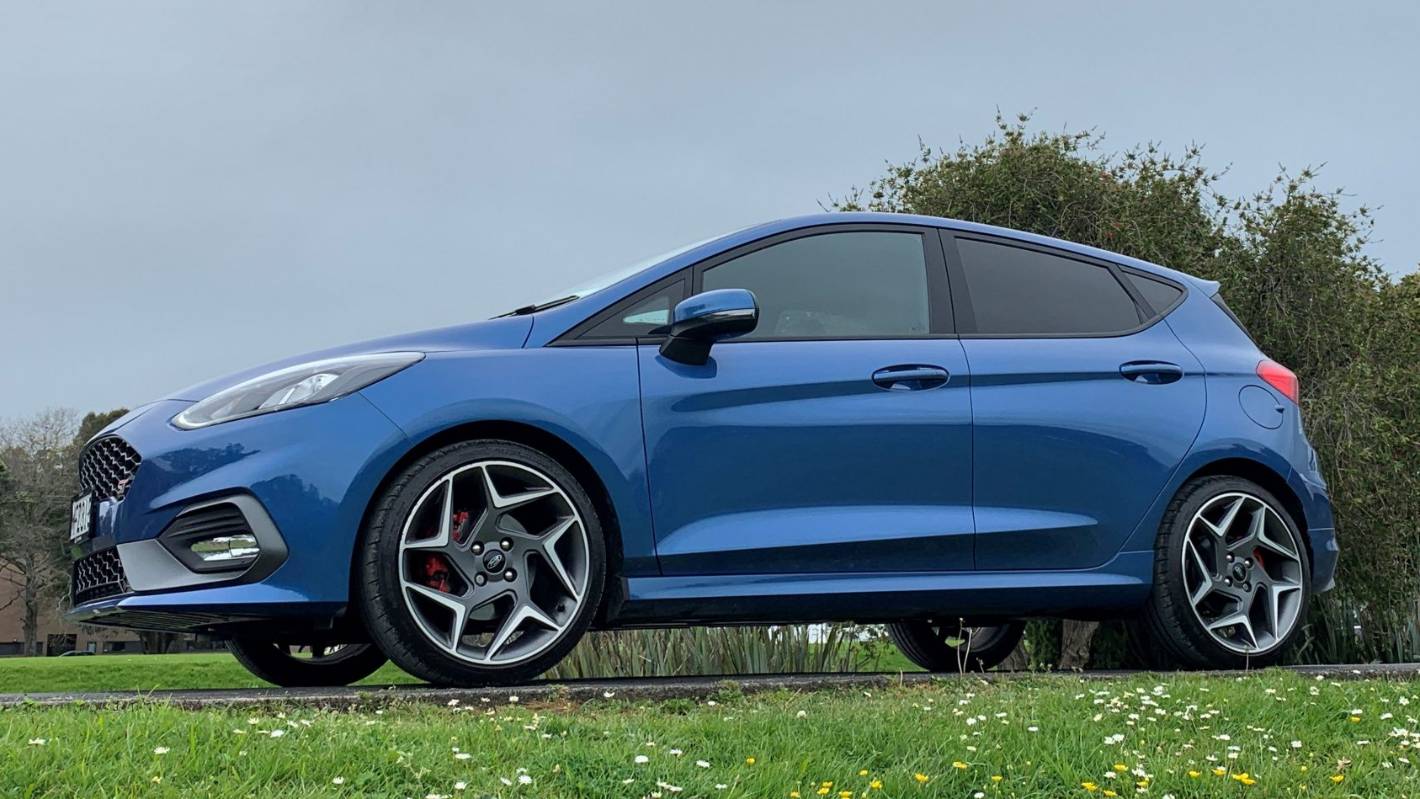 It breaks the dial. The ST is a riot right from the moment you start it up: the three-pot engine huffs and puffs at idle like an eager puppy.
The engine and chassis are the highlights. The three-pot powerplant is strong from very low speed and cackles its way to the redline. The soundtrack is appealingly gruff (a bit more rasp in Sport) and makes no apologies for having that distinctive triple-thrum. But it's a serious performer and able to break the front wheels' traction at virtually any speed in first and second gears.
It reminds of the best hot hatches of less sensible times by by darting into corners with huge aggression and sticking firm. It's what we used to call "chuckable" in the old days, albeit much more sophisticated with the latest chassis technology (including a bespoke front suspension setup) and Michelin Pilot Super Sport tyres.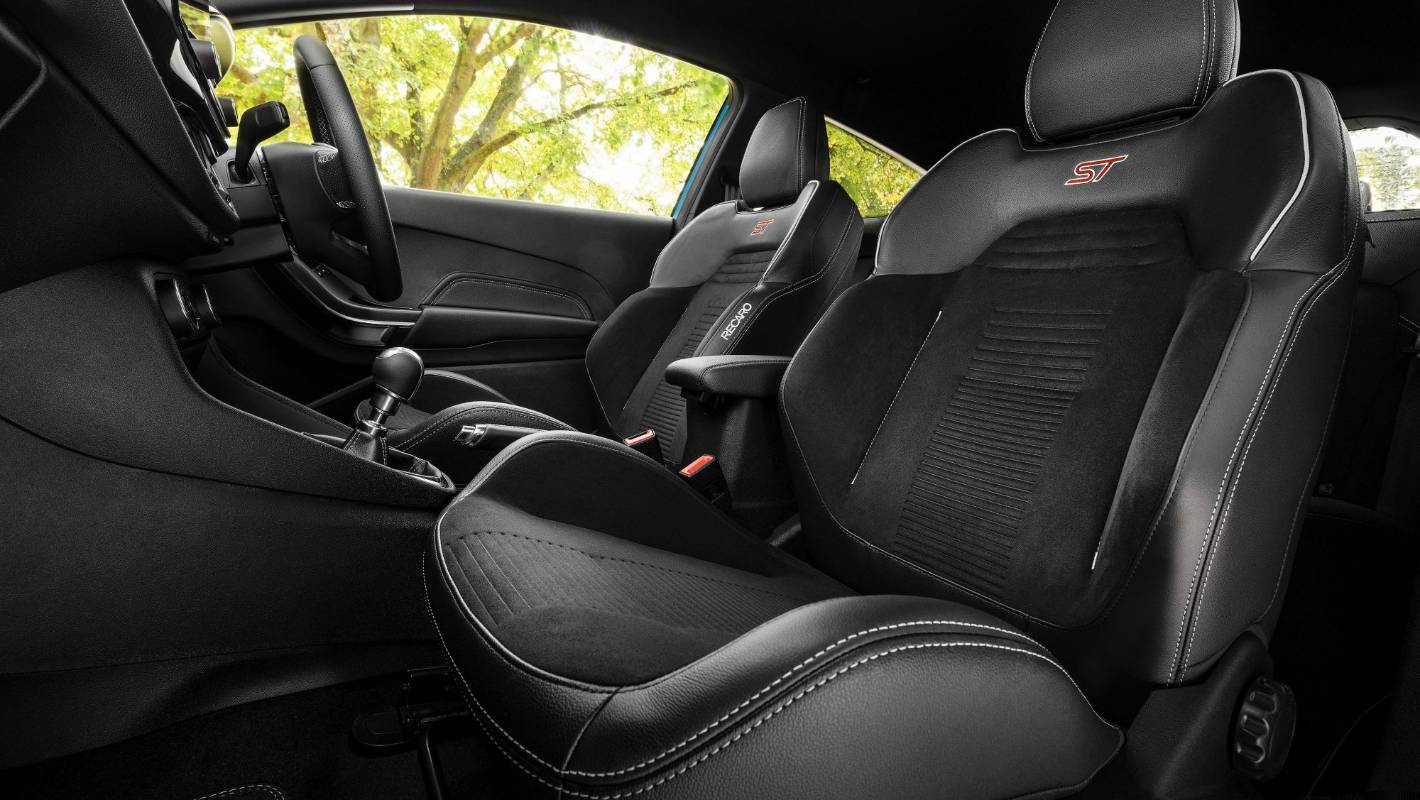 If there are aspects that are less than stellar, you'd have to highlight the steering and gearbox.
The ST has the fastest steering ratio of any Ford Performance model (14 per cent quicker than the old ST, which was itself a very eager machine). Combined with the trick suspension, it plays a big part in giving the car its nip-and-tuck handling. But the feel is a little muddy for a car like this and it gets less enjoyable as you ramp up the drive modes.
It doesn't spoil the fun (what could?), but the steering doesn't quite live up to the sharpness of the rest of the car.
The same could be said of the manual gearbox. First and foremost, give thanks for a manual, so perhaps we shouldn't be ungrateful in any way. The shift is quick and smooth... it just doesn't quite have the short-throw gate and cog-to-cog alacrity of a true track-day hot hatch.
Not a shopping trolley then?
The ST is still a practical car, mainly because (a) it's still a Fiesta family hatch and (b) it's available as a five-door for the first time. It's an upright supermini with five seats and a decent boot (again, larger than the previous model) that's still only a snip over four metres long.
However, there's still some opportunity cost in everyday driving for that dynamic character.
The Recaro seats look great but are heavily bolstered and may not suit everybody. And Ford's claim that the rear suspension (still an old-style twist-beam) suspension is the firmest of any Performance model is borne out by a fussy urban ride.
Again, the ride's not terrible - but it does constantly remind you this is no ordinary Fiesta.
Any other cars I should consider?
On balance, the Fiesta ST is the best thing ever, so no. It certainly has its faults, but it also gets you giddy with excitement every time you drive and there are precious few modern cars that can do that.
Although in terms of compactness, cheeky performance and sub-$40k cost, the Volkswagen Polo GTi might give it a run for its money.
The Polo GTi is of course the ultimate version of our reigning Top Car (from 2018), so it has something to prove. It'd be fun to put the two head-to-head. In fact, let's do that. Stay tuned.
David Linklater - STUFF
https://www.stuff.co.nz/motoring/road-tests/116614598/road-test-review-ford-fiesta-st
News