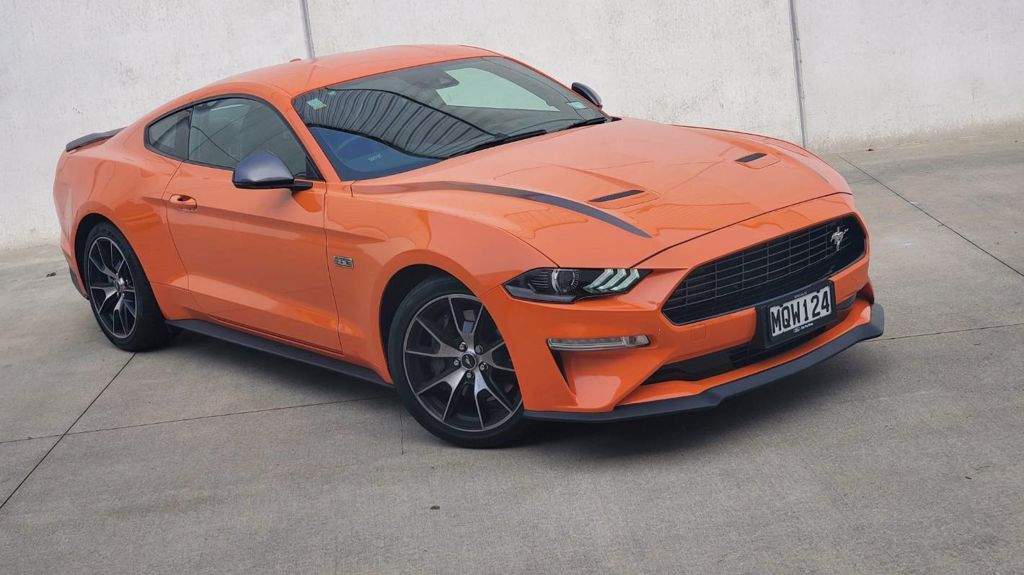 Road test review: Ford Mustang High Performance 2.3L
FORD MUSTANG HIGH PERFORMANCE 2.3L
Base price: $67,990
Powertrain and economy: 2.3-litre turbo-petrol four-cylinder, 236kW/448Nm, 10-speed automatic, RWD, combined economy 9.6L/100km, CO2 220g/km (source: RightCar).
Vital statistics: 4784mm long, 1916mm wide, 1381mm high, 2720mm wheelbase, luggage capacity 408 litres, 19-inch alloy wheels.
We like: Sharper handling than the V8, the RS howl when wound up, brilliant 80s throwback looks.
We don't like: Plasticky interior, sounds flat down low, be great with a manual...
So we all know a Mustang isn't a proper Mustang if it doesn't have a V8, right? Well the Mustang with the angry 2.3-litre four-cylinder turbo engine out of the Focus RS would beg to differ.
Wait, so Ford actually stuck the motor out of the RS into the Mustang?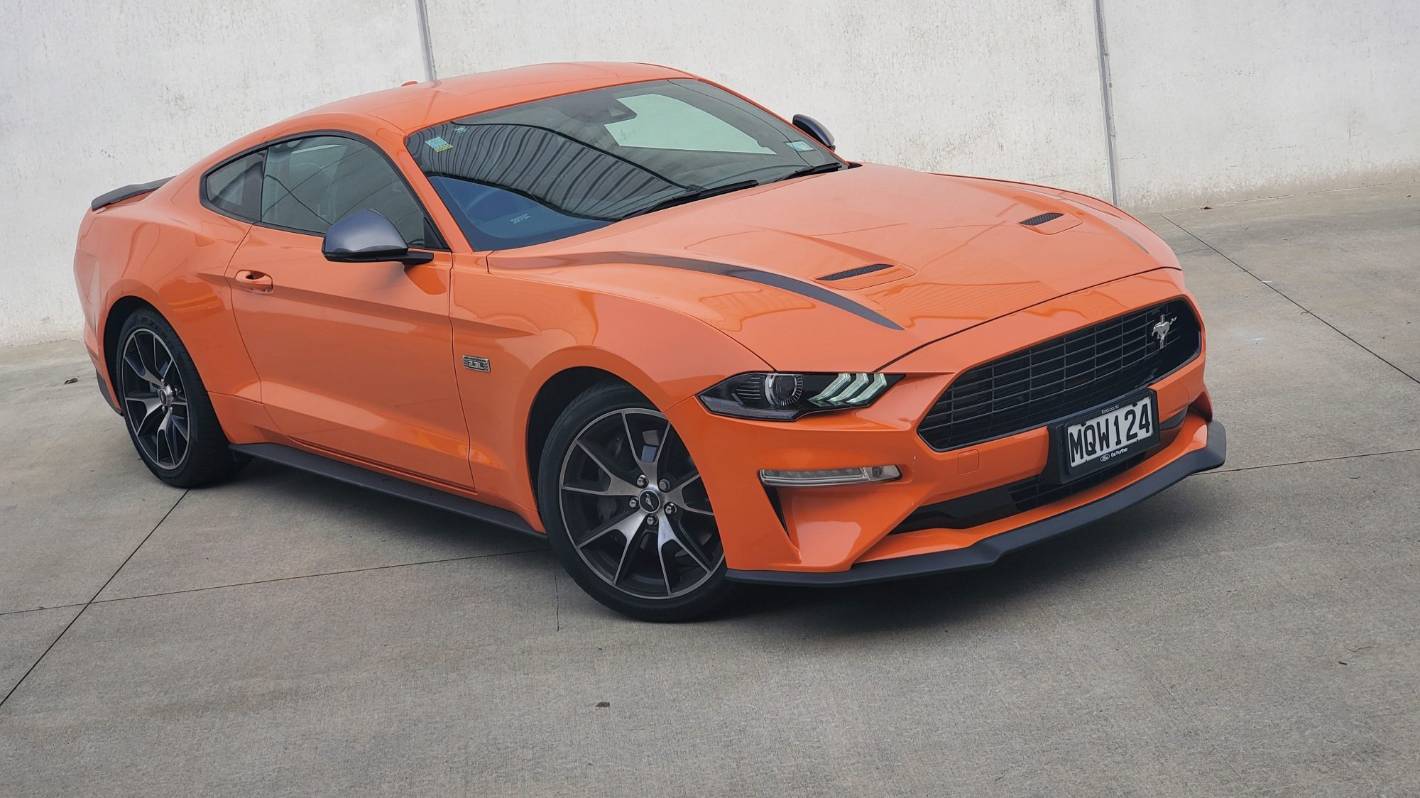 Well, sort of - although the Mustang's new and more powerful 2.3 is made is the same plant in Valencia, Spain, as the RS's motor was, it wasn't just a straightforward case of turning it 90 degrees and slapping it in the Mustang's engine bay.
The turbocharger, along with other components in the Mustang's version needed to be redesigned to suit a north-south orientation, while Ford's engineers focused on a specific tune to broaden the torque spread in the mid-range for the Mustang as well.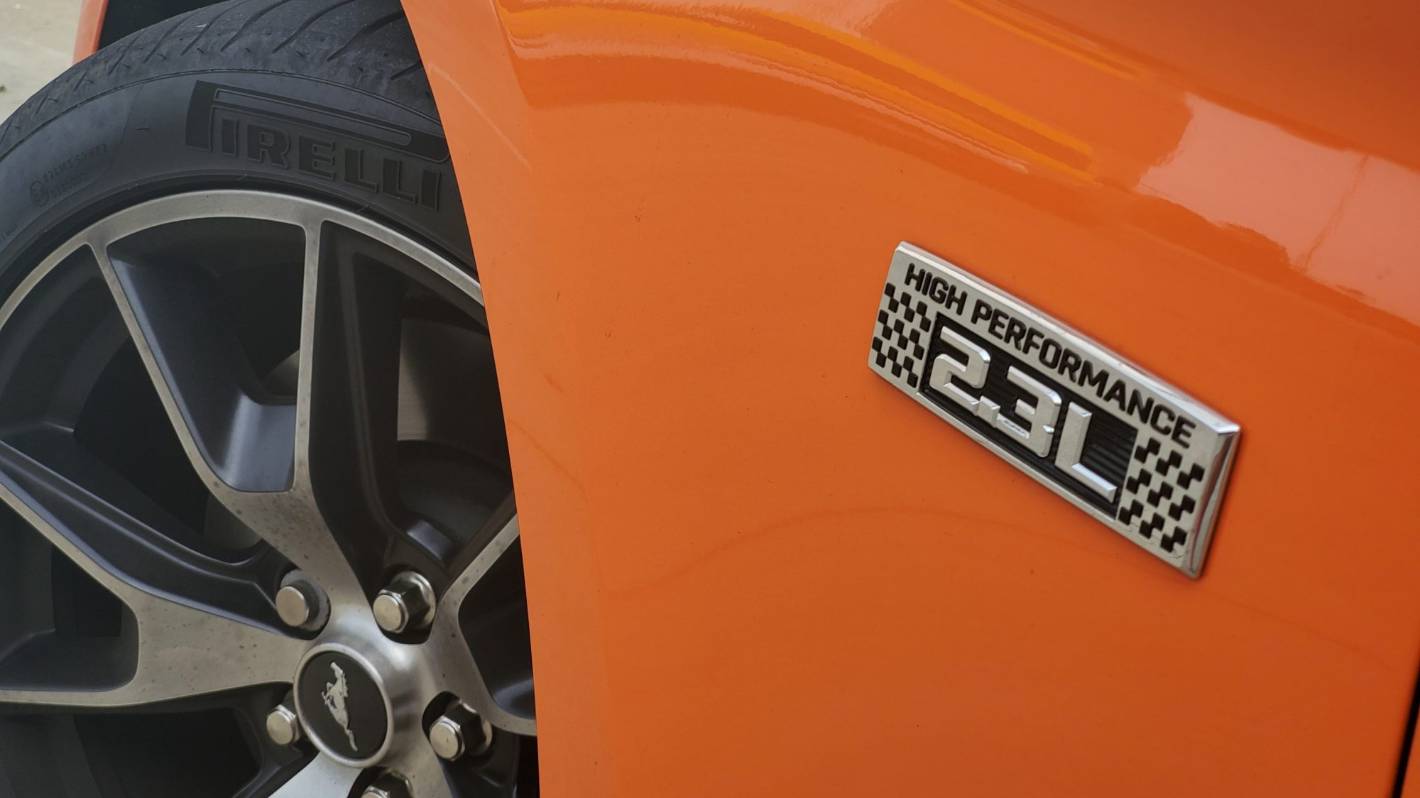 And that is incredibly obvious as soon as you drive it. Ford says the engine produces 90 per cent of its 448Nm maximum between 2500-5300rpm and when hooked up to Ford's excellent 10-speed automatic feels brilliantly responsive and eager underfoot.
It does, however, sound somewhat flat and uninspiring, leading you to immediately think "Oh, so it's not a proper Mustang then..." without its V8 rumble.
But stick with it, because once it climbs up in the revs (which it does impressively quickly) things start to harden nicely before quickly going on to emulate its Focus RS cousin with an angry, raucously mechanical hot hatch roar that is utterly intoxicating. No, it's not a V8, but it certainly is very angry...
So is it actually "high performance" then?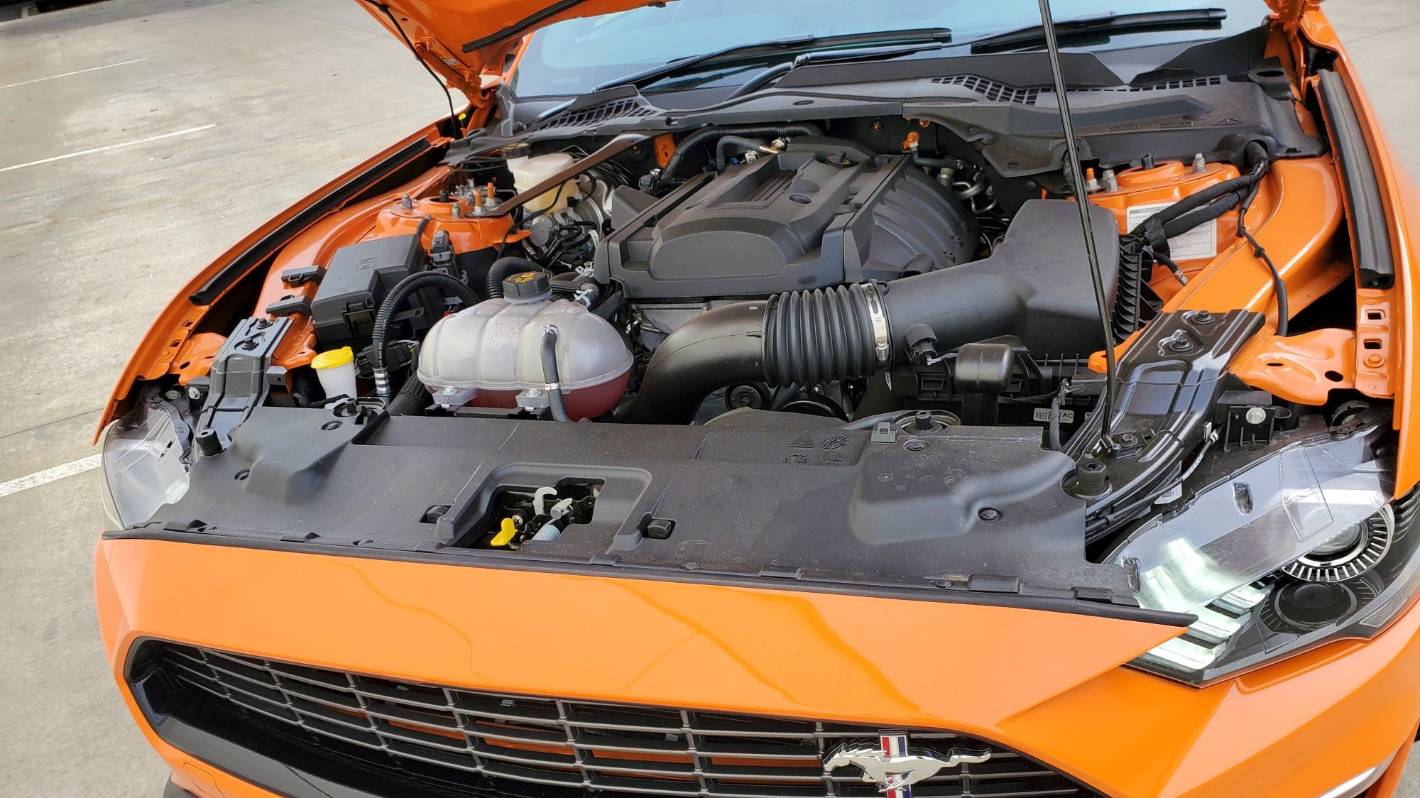 Well, it's not faster than the V8, if that's what you mean, but with a 0 to 100kmh time of under 5 seconds, it sure ain't slow. The "High Performance" name is perhaps a bit of a misnomer, as the power increase over the standard EcoBoost Mustang is minimal, but it is where that power and, more importantly, the torque are now spread that makes the big difference.
While the High Performance pack is an option on the standard EcoBoost Mustang in its homeland, here in New Zealand Ford is offering it as a standalone model. In fact, it is the only four-cylinder model you can buy here anymore, and only in automatic form too.
Which I would argue is even more of a shame than the V8 being auto only, because the flexibility and beefy mid-range of the high-performance would very much suit a manual transmission.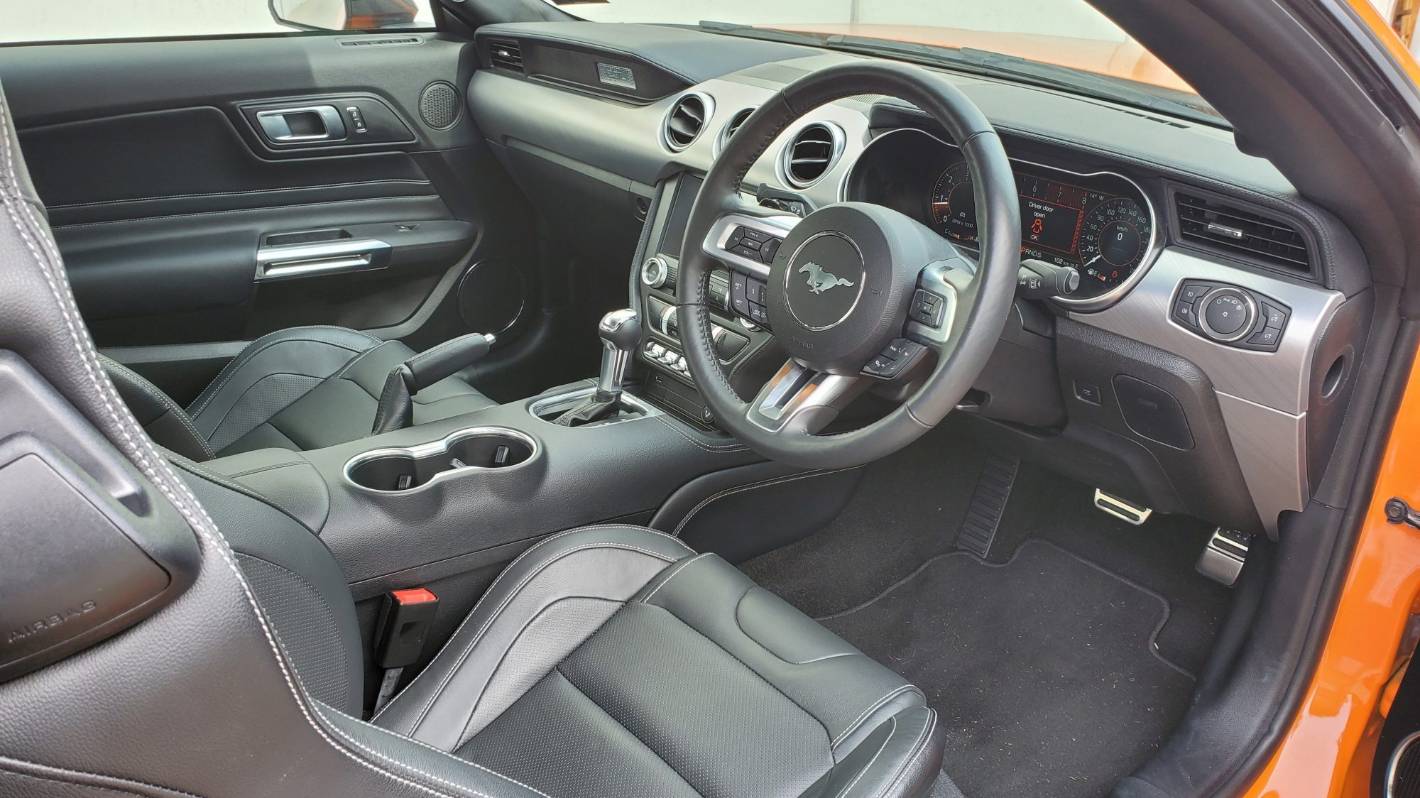 Brilliant retro styling inside, but you gotta like plastic...
As it stands though, the High Performance is even better through corners than the V8 thanks to a number of things, but mainly the fact that it loses a not-inconsiderable 68kg with the deletion of the V8, mainly over the front axle too.
A more playful and responsive front end allied to a rear that will still happily step out when provoked means that the 2.3-litre car feels more reactive through corners and gives you more options on the exit than the V8, which is all muscle car bull-in-a-china-shop belligerence.
So is it the modern-day equivalent of the Fox-body Mustang SVO from the 1980s?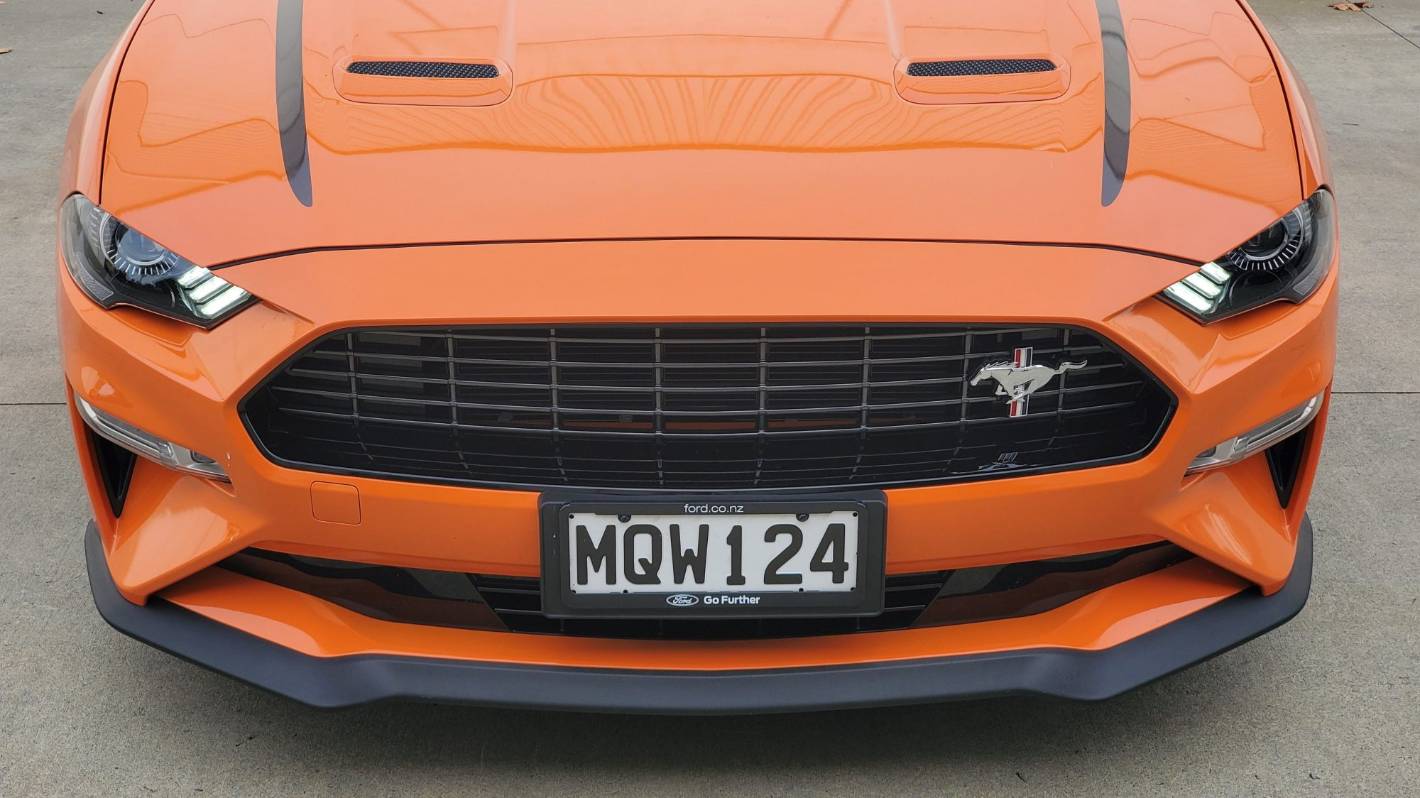 Ah, the legendary Mustang SVO that was the height of non-V8 powered Mustang performance and was actually faster than the V8 Mustang (not that being faster than an emission controls-strangled 80s V8 is actually a huge challenge...).
While the High Performance and the SVO are both powered by 2.3-litre turbos, the modern car isn't quite the high-strung howler that the SVO was, but it does its best to emulate some 80s goodness with the Twister Orange colour of our test car (a more 70s-tinged Grabber Lime is also available) and the discrete bonnet graphics.
Personally, I would have gone all-out with massive "TURBO" graphics on the lower doors, but then I would also liked Ford to have gone all-out on this turbo thing and give us lots of blowoff valve drama too...
However, they have differentiated it further from the V8 GT by adding a subtle boot lid lip, as well as a new grille that shifts the Mustang logo to one side and a new red, white and blue logo on the rear, as well as "High Performance 2.3L" badges on the flanks.
So is it a 'proper' Mustang then?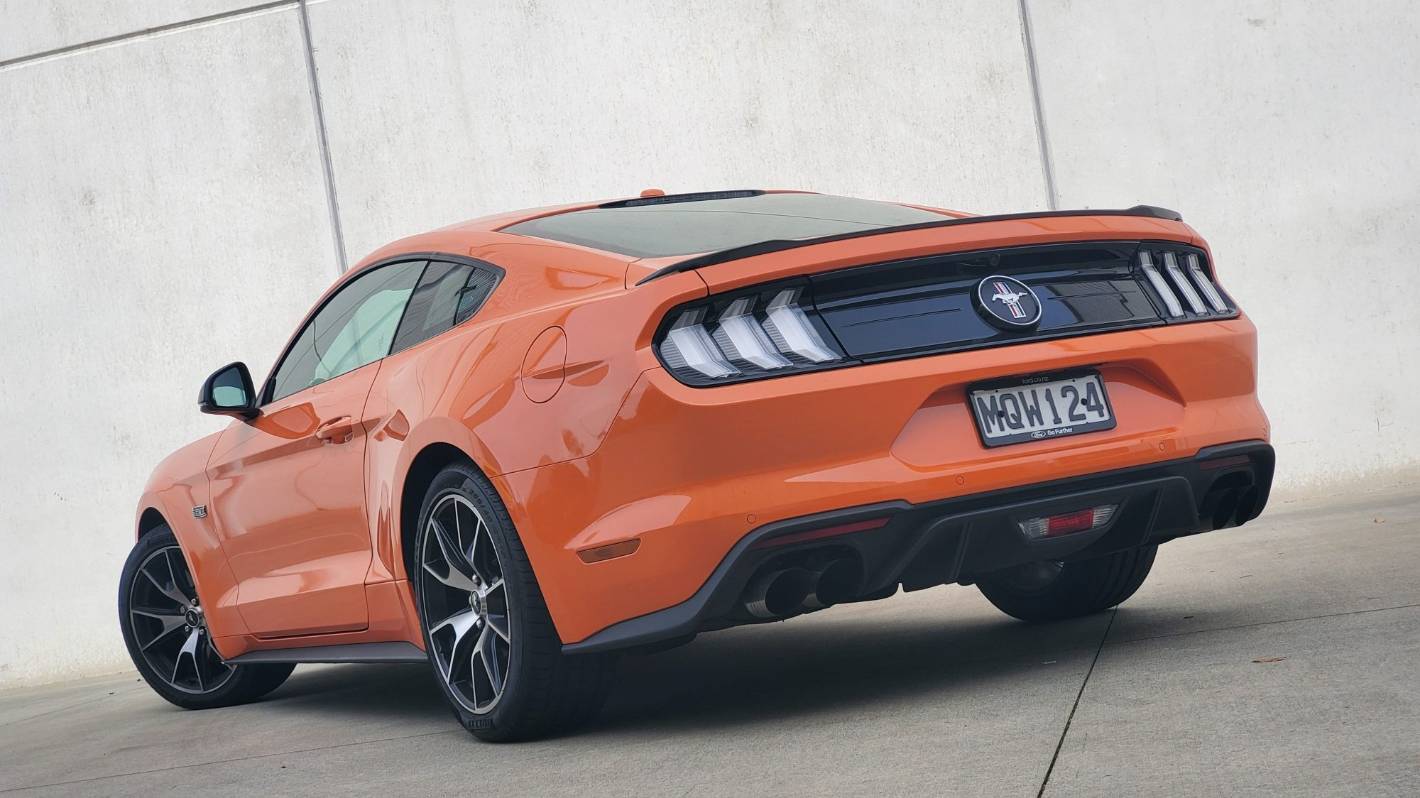 While it is an exceptionally good car (and most certainly the Mustang I would choose myself) you will never convince someone who actually uses the phrase "a proper Mustang" to ever accept that fact.
Still, if you are the sort of person who thinks things like the Fox-body Mustang SVO or Cobra turbo are thoroughly awesome beasts, then the High Performance is a wonderful throwback to the height of 80s Turbomania.
The fact that it is almost as quick as the V8 yet uses less fuel is an advantage, but its real trump card lies in the fact that it is a hefty $15,000 cheaper than the base GT V8.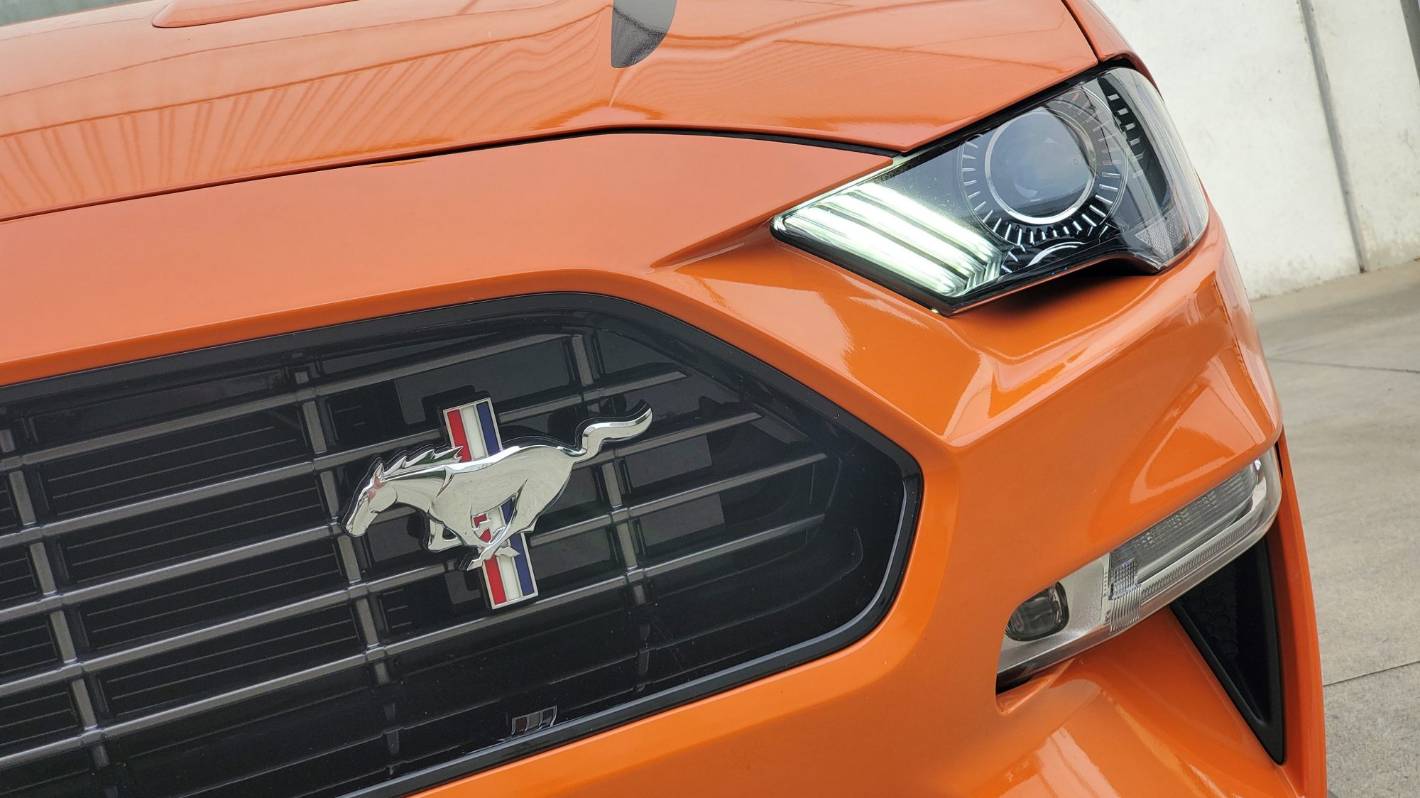 That is a lot to pay for the added aural appeal of a V8 over the High Performance's RS snarling howl.
Personally, I would pick the four-cylinder car and use the extra $15k to add a bit turbo-excitement to the noise with a blow-off valve and a fruitier exhaust, while also possibly considering a subtle, warranty-friendly tweak for more power too. Y'know, just to embarrass those V8's off the line...
But most certainly some of the saved money would go on a set of massive Porsche-style TURBO stickers down the sides...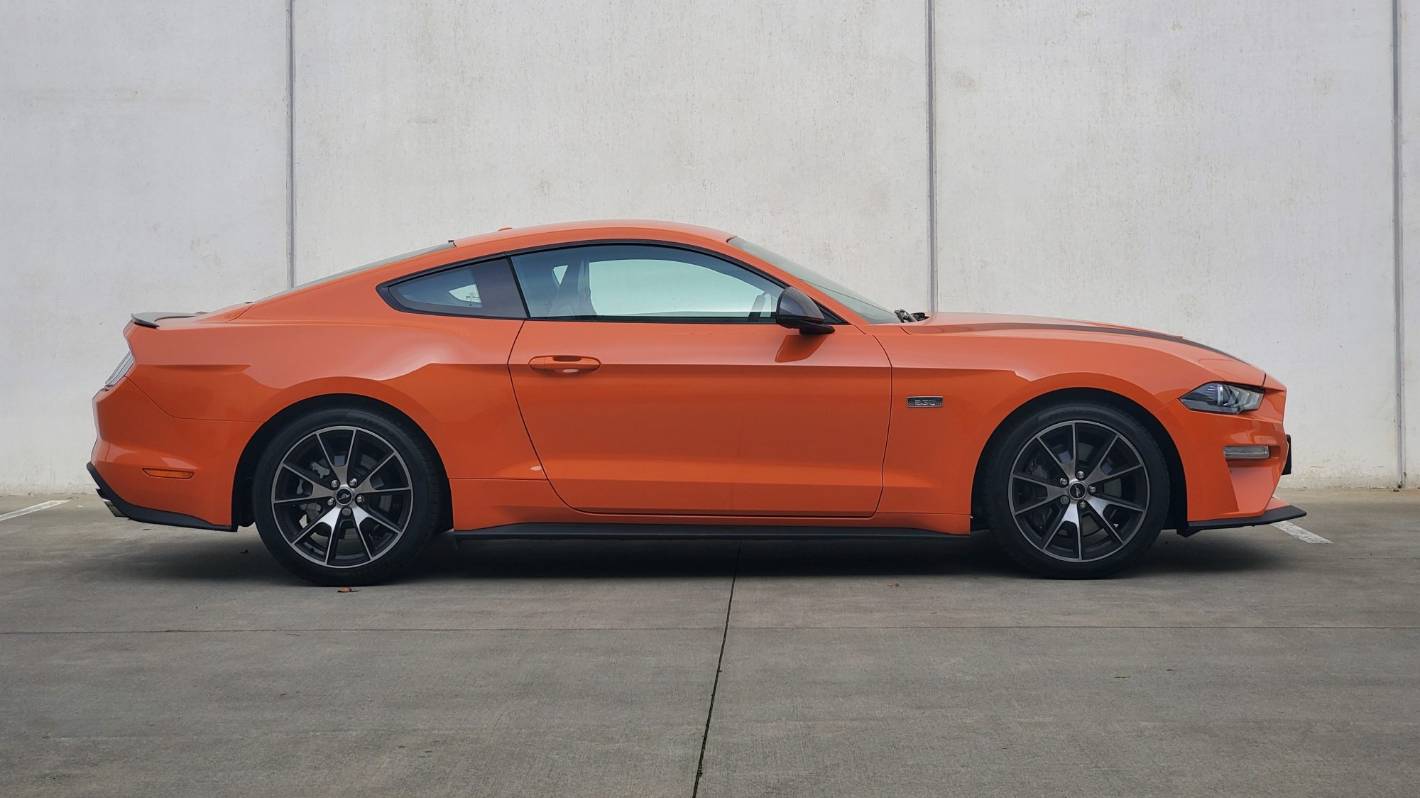 Any other cars I should consider?
Nothing really matches the High Performance's blend of American charm, raucous Euro hot hatch noise and sweet handling, after all the similar American stuff officially on sale here in New Zealand is all V8-based and WAY more expensive, while everything European (BMW 420i Coupe, Mercedes-Benz C 200 coupe, etc)is also more expensive, but also less powerful.
In terms of RWD performance coupes, the Mustang sits between the Toyota Supra and 86 in terms of price and performance. Maybe if Toyota brings the four-cylinder Supra here it would be a similar proposition, but there are no signs of that happening soon.
Weirdly, the closest thing the Mustang High Performance 2.3L has in terms of something that offers a similar feel and experience for the money comes from Kia - the Stinger GT packs a 3.3-litre V6 that produces slightly more power (277kW/520Nm), but lands at a similar price ($69,990) and offers an engaging RWD experience, albeit with less composed ride.
Damian O'Carroll - STUFF
https://www.stuff.co.nz/motoring/121681523/road-test-review-ford-mustang-high-performance-23l
News