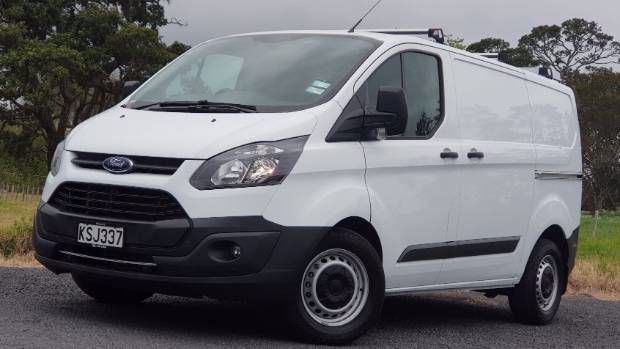 Ford Transit Custom
Now comes in automatic
I have to admit that I have something of a love/hate relationship with vans; I hate 'em with a passion when one is chugging slowly along in front of me on the road, but utterly love them when I get a new one to drive.
This is because vans are awesome. When they aren't getting in your way, that is.

There is actually no reason for a modern van to be getting in your way, as they are becoming increasingly car-like to drive, with powerful engines and decent dynamics.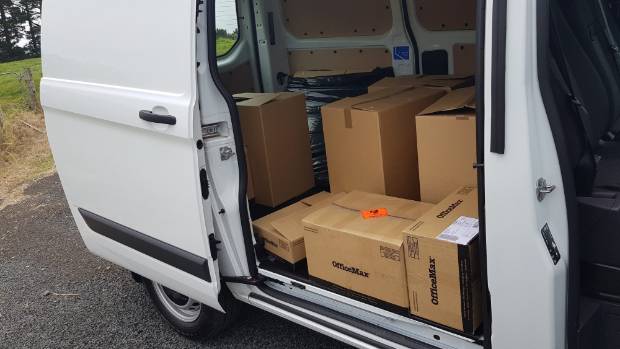 You can have Transit Custom in SWB and LWB versions. Depending on how many boxes you have to carry.
And now one of my favourite vans (yeah, that's right, I have a favourites list for vans), the Ford Transit Custom, has taken that car-like driveability even further with the addition of a new engine and, more importantly, a new automatic transmission.
Launched in 1965, the Transit has become virtually interchangeable with the word "van" in many places and more than eight million examples have been sold worldwide.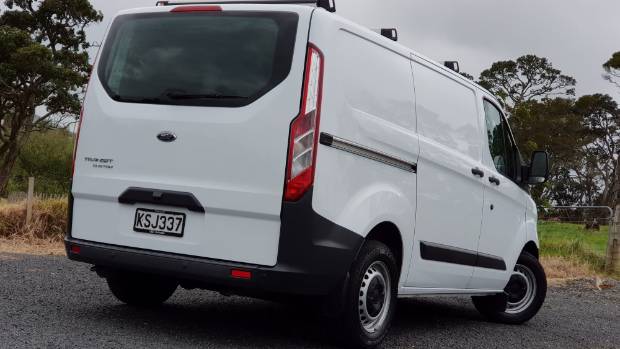 SWB has a low roof, but opt for the LWB and it gets taller as well.
The medium-sized FWD Transit Custom was launched in 2012 to take on the likes of the Mercedes-Benz Vito and Volkswagen Transporter, and while it was always a strong competitor for the German vans (and far superior to the likes of the Toyota Hiace) in terms of comfort, quality and load space, one area it was sorely lacking was the option of an automatic transmission.
For the 2018 model year, Ford has handily fixed that omission by not only adding a new six-speed auto to the Transit Custom's spec sheet ($51,990-$58,490), but also an all-new 2.0-litre turbo diesel four-cylinder engine.
The Transit Custom is the first vehicle in New Zealand to get Ford's new EcoBlue diesel engine: it's a 2.0-litre four-cylinder unit that produces 127kW of power and 405Nm of torque.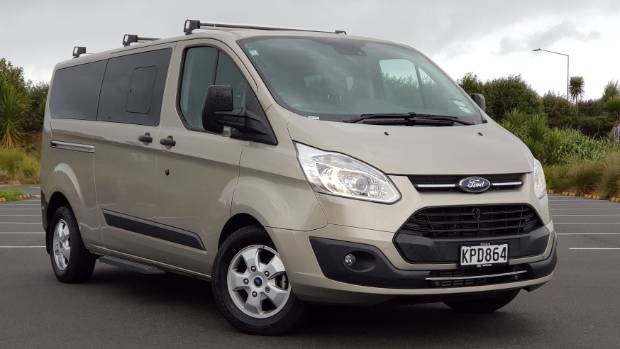 Not a Transit but the Tourneo Custom. It's got lots of seats, but also extra sound insulation and luxury equipment.
Ford claims the engine is capable of producing more than 150kW and will soon feature in its passenger cars, alongside further EcoBlue diesel engines, including a 1.5-litre variant.
The engine is an impressively refined unit that produces all its torque down nice and low - peak torque kicks in at just 1750rpm, then carries on in a nice, flat line across the majority of the rev range.
The six-speed transmission is also a very slick operator, and the two combine to produce an immensely driveable and impressively car-like experience.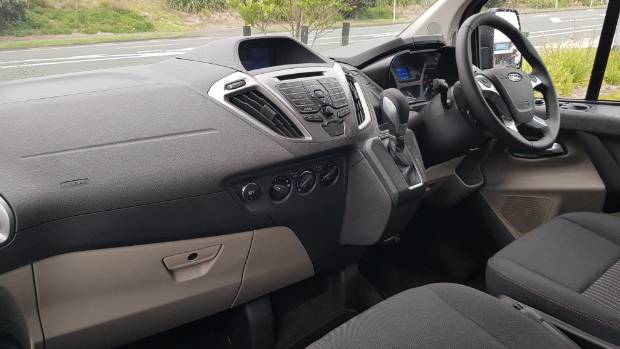 The transit-based interior of ToUrneo is a little dated, but you get car-like trim and colours.
The Transit Custom comes with a choice of two wheelbases, with the LWB model coming with a higher roof; a glass pack is also available on the SWB model.
Safety features are also impressively high, with hill hold assist, trailer sway assist, load adaptive control, a backing camera, front and rear parking sensors, roll mitigation control, cruise control with an adjustable speed limiter function and six airbags all coming standard.
Like most manufacturers of medium-sized vans, Ford doesn't just concentrate on the load-hauling market - it also offers a people-hauling version that has also been upgraded.
Called the Tourneo Custom, Ford offers a single specification in NZ, and only as a LWB automatic model.
Like the van, the $60,990 Tourneo Custom scores the new engine and transmission and comes with all the same standard safety features, but also gets a number of exclusive luxury and convenience touches, like rear seat air conditioning controls, privacy glass and a rear-seat 12v power socket, along with the six extra chairs.
The Tourneo is a massively flexible people and load hauler and the second two rows of seats can be arranged in a huge number of ways. Even with the third row in place, cargo space is a still-impressive 1.93 cubic metres, or with just the second row in place, it balloons up to 3.69 cubic metres. Of course, the seats are removable, if a proper van-like load space is required.
While the Transit Custom is impressively car-like for a van, thanks to its excellent ride quality and the refined and powerful new engine, the Tourneo Custom takes things to another level.
On the road, it is remarkably refined and smooth, with only the higher, more upright van-style driving position giving you any hints of its van origins.
The Tourneo's extra sound insulation, seats and carpet make it far quieter than the already refined van, while the effortless power and slick shifting transmission make it a delightfully easy thing to live with both around town and out on the open road.
Downsides? Well, the Tourneo is still very much a van, meaning it is a big thing for a people mover. The Transit still has the serious blind spots that are traditionally associated with a van and, while it comes with a backing camera as standard, the screen is rather small and low-res.
While the interiors of both the Transit and Tourneo are impressively built and decent quality, the design is getting very dated now.
These complaints aside, the sheer drivability and comfort of both make them very convincing packages that really take the fight up to - and even beyond - the competition.
- Damien O'Carroll
STUFF (https://www.stuff.co.nz/motoring/road-tests/100041557/ford-transit-custom-is-automatic-for-the-peoplecarrier-and-van-too)
News