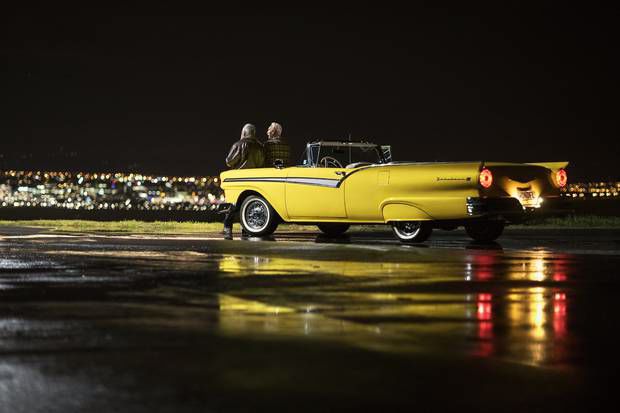 Ford Fairlane muscle car converted to electric cruiser
Mercury's idea to take the combustion engine out of a muscle car and replace it with a fully electric alternative started as a brainstorm on a sheet of paper.
On the left of the page under "Combustion Cars" , you had a list of emotionally charged words that captured typically associated with the growl of an engine: "exciting", "freedom", "strength" and "power", to name a few.
The other side of this page, dedicated to electric vehicles (EVs), provided a far more rational outlook, with words such as "sensible", "clean", "considerate" and "quiet" making the cut.
These two lists place alongside one another was essentially the difference between a classic muscle car and a Toyota Prius.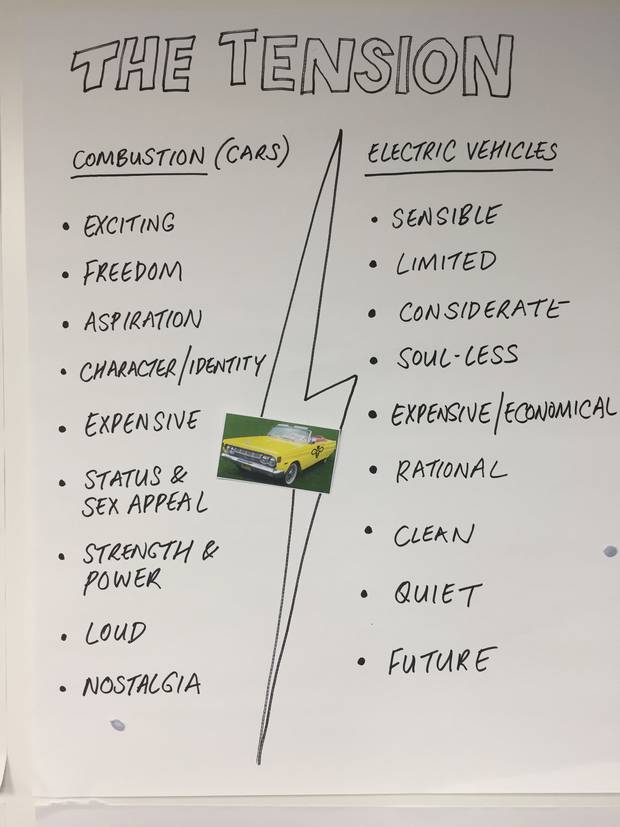 An early brainstorm session between FCB and Mercury revealed a clear divide. Photo/Supplied.
Mercury's chief marketing officer, Julia Jack, told the Herald the company's objective with this campaign was to bridge the gap between the rational and the emotional sides of the conversation related to green energy.
"All the conversations related to EVs have been focused on it being the right thing to do, it makes economic sense, it's good for the environment," she said.
"All of those things are great, but they ignore the emotional connection people have with cars. We really wanted to open up the dialogue and say 'well, actually, EVs can be just as wonderful and sometimes even better than your traditional combustion engine'."
To bridge this gap, Jack and her advertising agency FCB developed an ambitious scheme to convert a roaring, gas-guzzling 1957 Ford Fairlane into a far gentler but equally attractive EV.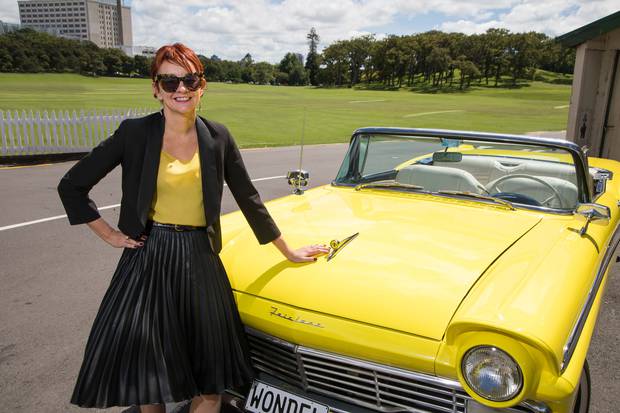 Mercury chief marketing officer Julia Jack stands alongside Evie, the electric muscle car. Photo / File
Mercury worked with Hamilton-based business Scott Drive and Dunedin-based Control focus to remove the existing engine and revamp the vehicle.
While the exterior was also kitted out with a few cosmetic alterations and a fresh paint job, the now-superfluous car exhausts were left intact, strictly for aesthetic regions.
Jack uses a food analogy to explain the project, saying it's about having the rationality of salad and the taste of a burger all wrapped in a single option.
The unveiling of the car coincides with the release of an advertising campaign that features a pair of elderly blokes, living within a retirement village, silently escaping detection from a security guard before going on an adventure across the city.
While the traditional advertising will play an important role in spreading the word about the initiative, Jack said Mercury will also be taking the car to "as many events as possible" so Kiwis can get a real look at it.
"Hopefully, this will generate some interesting conversations. We want to get the general public and some real petrolheads meeting Evie," she said.
Jack said she would like to see New Zealand become a leader in the adoption of electric vehicles, but the lacking cool factor of these vehicles remains a hurdle too far for many Kiwis.
The interest Mercury has in effectively giving green energy a touch of cool factor is because the future is electric and the company aims to establish itself as a dominant voice on the topic.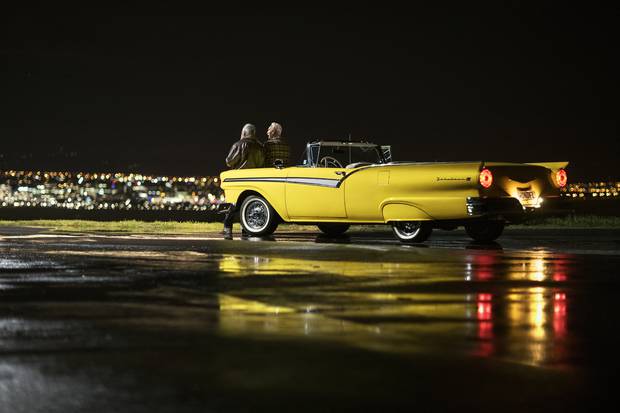 FCB head of strategy David Thomason said the creative team behind the campaign wanted to avoid "shiny silver suits and hoverboards" in showing what the future would be like. The point of the campaign, he said, was to show that the future is already here – and that it isn't half bad.
"We wanted to live in the now, and we believe that from here on the infrastructure will accelerate so fast," Thomason said.
"The second-hand market is developing, batteries are improving and the political context is changing. Everything is lining up."
Thomason wouldn't comment on the cost of converting an old-school vehicle into an EV, saying only that it's not cheap.
He said the point of the initiative isn't to encourage New Zealanders to convert muscle cars into electric vehicles, but rather that energy-efficient doesn't necessarily equate to dull.
Kiwis do seem to be coming around to electric vehicles, with data from the Ministry of Transport showing the number of electric vehicles on New Zealand roads has risen from 191 in January 2013 to 6603 in January this year.
Given the high cost of petrol both in money and to the environment, Mercury estimates that a Kiwi household could halve its overall energy costs and significantly reduce its carbon footprint by trading in a petrol guzzler for an EV.
Whether this is enough to convince a die-hard petrol head to trade in a roaring Mustang for silent EV is yet to be seen.
-NZ Herald
News