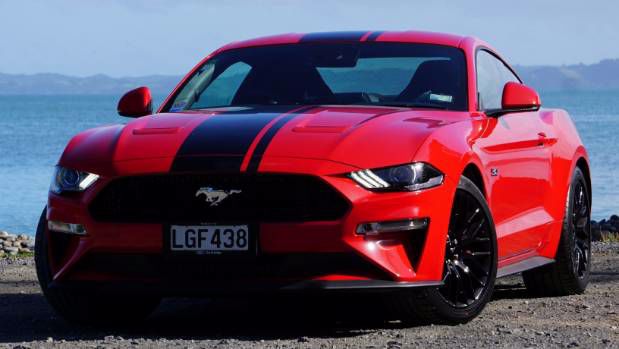 Ford Mustang GT earns its stripes with new technology
Ford knows its customers pretty well.
The 2018 Mustang GT is faster and louder, which are inarguably the two most important things.
It's also a lot more hi-tech, with upgrades to the 5.0-litre V8 engine's internals, an outstanding 10-speed automatic transmission, fully configurable 12-inch digital instrument panel and (finally) camera-based active safety features such as adaptive cruise control, autonomous braking and lane departure warning/lane keeping assistance.
But it's all still wrapped up in a retro-inspired package that lets you pretend you're Steve McQueen in Bullitt.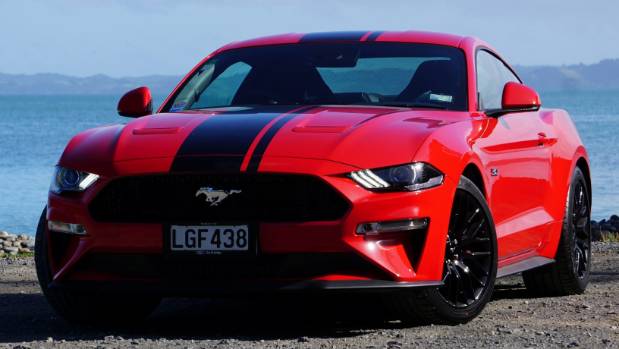 Wider, lower look to revised frontal styling. And 33kW more under the bonnet.
Behind the revised frontal styling designed to make the Mustang look lower and wider (and meaner), the 5.0-litre V8 now features a dual-fuel, high-pressure direct-injection and low-port fuel injection system - a first for a Blue Oval V8.
Power and torque are up from 306kW/530Nm in the outgoing car to 339kW/556Nm in this new one. The redline is also higher: peak power is delivered at 7000rpm.
It's a lot more lively, but crucially the V8 now also sounds much more authentic.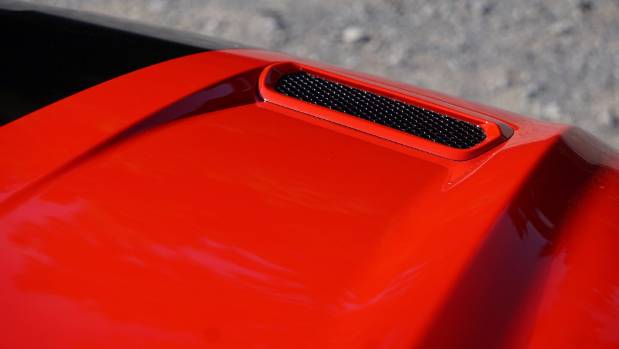 Lower bonnet now has these vents. Sadly, you can't see them from the driver's seat.
The active valve exhaust system can be configured in a number of different ways, from considerate-to-the-neighbours to something approaching a track car. Indeed, select the most aggressive setting and you get the warning: "for track use only".
As if.
The 10-speed automatic is terrific.
Actually a co-development with Ford's arch-rival General Motors, it's super-smooth and can be manually controlled via the steering paddles.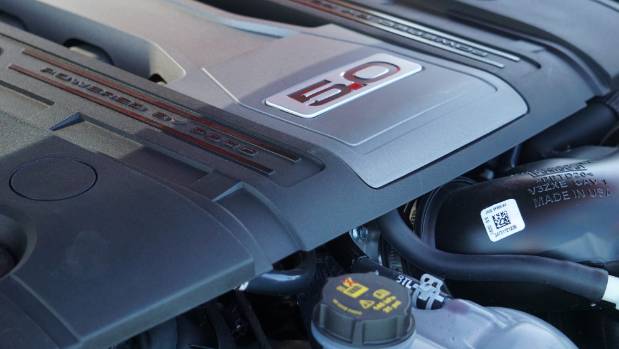 More power, higher redline from 5.0-litre V8. And more noise!
Not sure why you'd want to do that though, because the calibration is incredibly sophisticated and has a "skip shift" feature that will allow it to go straight to the most appropriate ratio without bothering with the interim ones.
The 10-speeder is also standard on the four-cylinder EcoBoost model. Manual transmission continues as an option in the V8 only (it's also had a few tweaks).
Nestled in that retro-look instrument panel is a new 12-inch virtual display, as seen on the GT supercar.
Digital displays of this kind are not new of course, but Ford's is an especially good one: perhaps because it's an everyperson brand, the graphics are large (comically so in some menus) and the navigation easy.
There are various layouts to match drive settings and many have cute retro themes - like a narrow strip-tachometer-with-needle across the top of the screen.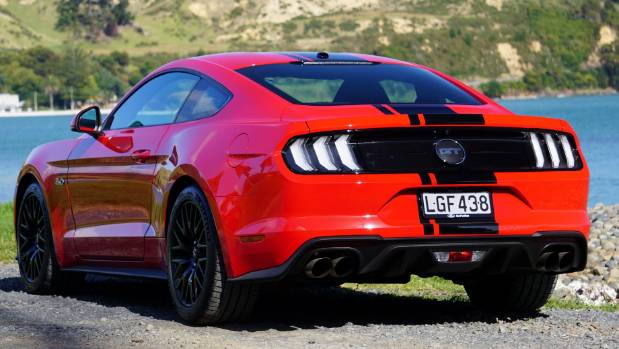 Suspension has been tweaked, but MagneRide adaptive technology also now an option.
Prices have risen slightly - between $2000-$3000 depending on model. The GT fastback (this body style accounts for 90 per cent of forward-orders, as it should) is now $79,990, or the same V8 powertrain comes for $84,990 in convertible form.
The EcoBoost is $62,990 or $67,990 without a roof.
And yes, we will see the limited-edition Bullitt Mustang in NZ as a factory right-hand drive model, hopefully before the end of the year (2018 is the 50th anniversary of the movie). Price and supply still not known.
Back to the streets in the standard car.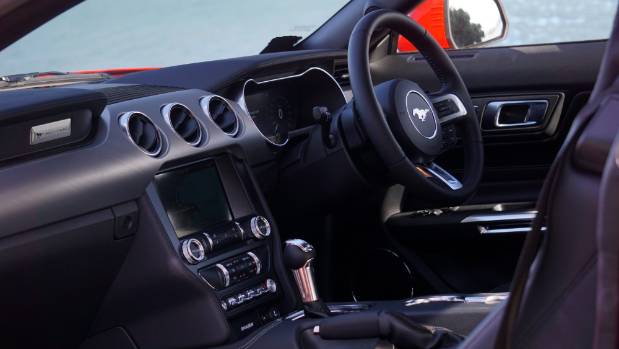 Interior style has stayed the same, but instrument panel now a virtual 12-inch screen.
It's a hoot, but there's still plenty that grates in an $80k machine. The cabin quality has improved but it's still not as good as some $20k superminis.
The switchgear looks cool but it's still fiddly: the drive-mode switch only cycles one way, for example, and it's rather sluggish so you end up trawling through endless menus to get where you want to go.
The new adaptive cruise is welcome but it's an old-style system that shuts down below 30kmh as you're rolling towards stationary traffic. No stop-and-go functionality.
Then there's the elephant in the room (be careful not to crash into it): the previous Mustang's two-star ANCAP safety rating. That will improve when the 2018 model is retested with its extra active safety tech, but the reality is that the structure of the car hasn't really changed so don't expect a miracle leap to five-star status.
Newsflash: don't know if buyers really care about any of the above. Ford NZ has been selling Mustang at a rate of 30-50 per month and the ANCAP-bombshell has had no effect on that, then or now.
A greater range of options and customisation is also key to the new Mustang - and one reason why it's essentially an order-only machine in NZ, although the wait-time is only three months.
There are the usual stripes and wheels, but there's now a boot spoiler available and you can also consider higher-end goodies like MagneRide suspension ($3000) and Recaro front seats ($3500).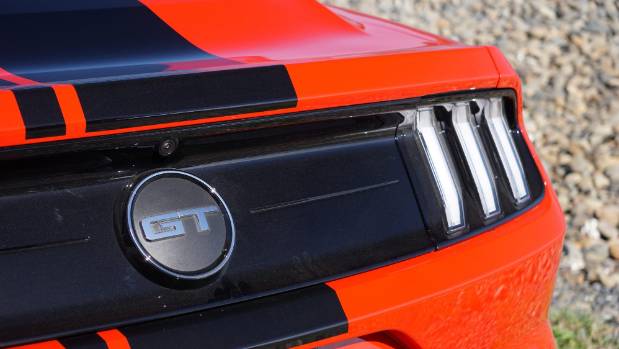 Many more options available available for new model. Stripes essential, right?
We tried both the techy suspension and sporty seats on a variety of test cars during our preview drive.
It's matter of personal taste of course, but the trick suspension is stiffer than the standard GT setup even in its most comfortable setting and it's linked to the drive modes - so not independently adjustable.
The Recaros look great and offer lots of support in performance driving - but the softer standard seats just seem more appropriate and you get heating and ventilation, which is not compatible with the fancy chairs.
With that personal-taste proviso in place, we'd also say the optional boot spoiler looks pretty average. Kind of spoils the clean, classic lines of the fastback.
This is our way of saying the new Mustang is extremely desirable as-is. The driving experience has been transformed and it sounds awesome.
Go for it on the stripes though.
STUFF - https://www.stuff.co.nz/motoring/road-tests/102500791/ford-mustang-gt-earns-its-stripes-with-new-technology
News