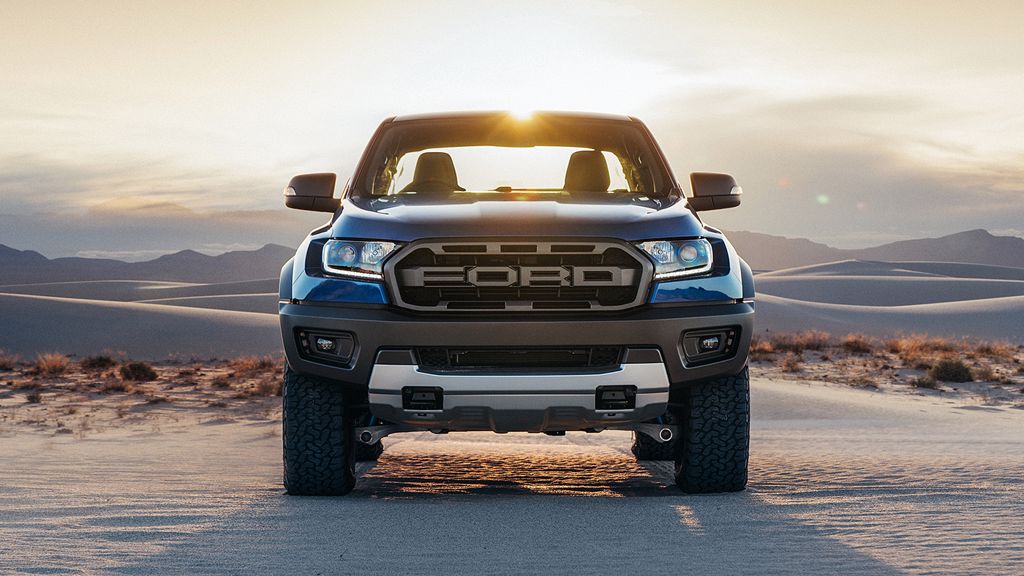 FORD RANGER RAPTOR - DEEP DIVE
Ford's most powerful and comfortable Ranger yet conceived just strode into town. The Blue Oval is targeting its new Raptor at a very specific audience rather than existing buyers who we think might be happy to stay with their Wildtrak. Ford Performance has an exacting list of handling credentials and engineering criteria that any new vehicle it creates must meet before it can wear the hi-po brand badge with pride.
To become a Raptor model, the Ranger is said to have undergone a significant re-engineering programme. Testing and development across the globe make it worthy of belonging to the stable of high performance vehicles that includes the Ford GT, F-150 Raptor, RS Focus, and Shelby Mustang GT-350. Melbourne-based Raptor chief programme engineer, Damien Ross, jokingly told NZ Autocar that the bean counters didn't refuse any request he made during the development of the Raptor, and that he got everything he wanted for the vehicle. In summary, to qualify for the Ford Performance seal of approval, the Raptor has an all-new 157kW/500Nm bi-turbo 2.0-litre four-cylinder diesel engine running through a ten-speed automatic.
There's a wider track and body work to accommodate new rear suspension featuring a Watts link and wider tyres while the ladder frame chassis has been developed to take the punishment of hard off-road driving. In addition, there are upgraded brakes (332mm discs at both ends replacing the usual drum set-up on the rear), increased ground clearance and improved approach and departure angles, as well as an integrated tow bar and 4.5-tonne rated recovery hooks. The 17-inch alloys mirror the F-150 Raptor's design and wear chunky BF Goodrich all terrain tyres.
IT PRODUCES 157KW AND 500NM OF TORQUE PARTNERED WITH THE SAME TEN-SPEED TRANSMISSION FOUND IN THE U.S BUILT F-150 RAPTOR
Inside the cabin the Ranger Raptor has a racer-inspired atmosphere, with a unique steering wheel complete with the Raptor logo embossed into the spoke bezel. There are also sports seats, paddle shifters, leather accents and blue stitching. The instrument cluster has aggressive styling, encompassing the driver assist features, and there is also a red stripe at the top of the steering wheel to let you know how much opposite lock you have dialled in.
Ford Asia Pacific president, Peter Fleet, says he is six foot nine and he has no problem getting comfortable behind the Raptor's unique sports steering wheel. He reckons he found the extra bolstering in the redesigned seats "very comfortable" during a two-day driving stint in Australia. "It is a very comfortable truck. I think people will be very surprised at the refinement and particularly the very low levels of noise, vibration and harshness, even when travelling across some of Australia's worst roads," he reckoned.
New colours on offer include Lightning Blue as seen here in the photographs from Bangkok, as well as Race Red, Shadow Black, and Frozen White. There is also a new and unique hero colour for the Ranger Raptor called Conquer Grey. Ford says the contrasting grey accents across the Raptor range help to accentuate the vehicle's look. It was fitting that Bangkok was chosen for the reveal of the new Raptor because the Ranger's biggest market is Thailand, where one of three (soon to be four) manufacturing plants is located.
While some diehards will be scratching their heads about the Raptor's electronic terrain management system and a 2.0-litre four-cylinder turbodiesel engine rather than a fettled 3.2 five-potter, senior Ford managers aren't in the least bit concerned. "Just wait until you drive it; you won't believe how comfortable it is, both on road and off," was the overwhelming message to media from the Ford Asia Pacific executive and engineering team at the reveal.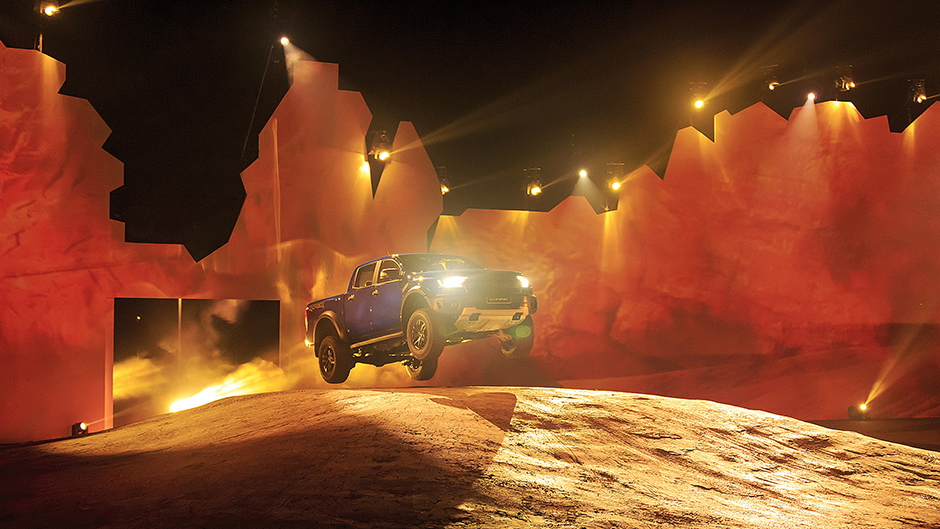 The Raptor will sit alongside the Wildtrak and XLT as a high performance vehicle for off-road enthusiasts who also need a daily driver. Presumably customers won't mind their vehicle having significantly enhanced on-road presence thanks to its tough truck styling, particularly with the new front bumper and wider composite wheel arches. Ford Asia Pacific product development vice president, Trevor Worthington, who supervises more than 4000 engineers around the globe, says the new hero model for the Ranger has been developed to be the very best product it can produce.
"We haven't held anything back with this vehicle in any aspect. There will not be future higher performance or limited edition Raptor models in this vehicle programme because we cannot stretch the performance envelope any further," he said. And don't expect a V6 turbodiesel in the regular Ranger either. Nor will we be seeing the 2.3-litre turbopetrol from the stateside version. While some Kiwis will be disappointed by the lack of cubes under the bonnet of the Raptor, Ford says that it will continue to develop smaller capacity turbocharged engines and deploy more efficient transmissions.
The Ranger Raptor's 2.0-litre turbodiesel uses a small high pressure turbo working in sequence with a bigger low pressure unit. In the low rpm range, the two work in series while at higher revs, the smaller unit is bypassed and the blowing is taken care of by the big guy. At full tilt, it produces 157kW and 500Nm of torque. It's partnered with the same ten-speed transmission found in the U.S built F-150 Raptor. As well as a low ratio transfer transmission, the Raptor receives a Terrain Response System which offers a Normal and Sport mode for road use. There are also four different off-road modes; grass/gravel/snow, mud/sand, and rock, while Baja mode sets the Raptor up for high-speed off-road driving.
Ford Asia Pacific transmission and driveline engineering manager, John Fallu, told NZ Autocar that the company had investigated using automatic gearboxes with as few a six forward gears and as many as 13. "We found that the ten-speed automatic was the optimum for the Ranger Raptor to give the best response, fuel efficiency, and smoothest performance. Six was too few and 13 was too many; there were no efficiencies gained but rather lost," said Fallu.
The Raptor is the only ute in the world yet to have a Watts linkage rear suspension with coilover rear springs, plus uniquely developed Fox Racing Shox dampers at all four corners. The package provides the vehicle with its "magic carpet ride", according to Jamal Hameedi, Ford Performance's chief engineer.
Hameedi reckons the Fox shockers were the most expensive part of the Raptor and getting the Ford bean counters to sign them off was a bit of a coup. "They literally cost as much as a four-cylinder engine; I am not joking when I say the Fox Shox were the most expensive thing we have put on this car."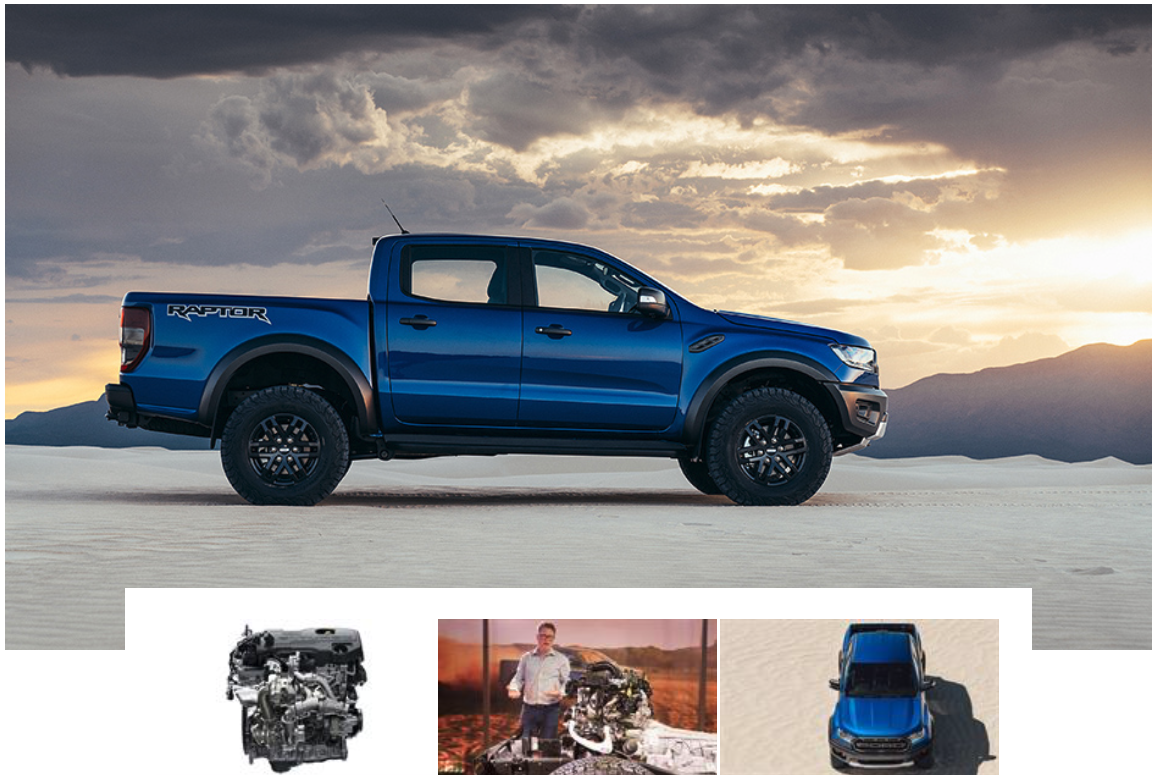 Fleet, Worthington, and Ross were all tight-lipped when asked about forecast Raptor volume and if demand would outstrip supply, but Fleet said he didn't want to see a repeat of New Zealand customers waiting three months for delivery of vehicles, as previously occurred with the Wildtrak.
The next instalment of the Ranger Raptor story will take place in Australia in June or July. Ford Asia Pacific is planning to give the media a taste of the vehicles' on and off-road ability on the very roads where they developed it. We can't wait.
Robert Barry for autocar.co.nz
http://www.autocar.co.nz/car-reviews-app/ford-ranger-raptor-revealed-deep-dive
News